Since Euromoney acquired the Investing in Mining Indaba conference, the esteemed gathering's credence has escalated to new heights, and in 2018 the upward trajectory continued as a 15 percent increase in attendees came together to discuss the biggest trends in continental mining and resources.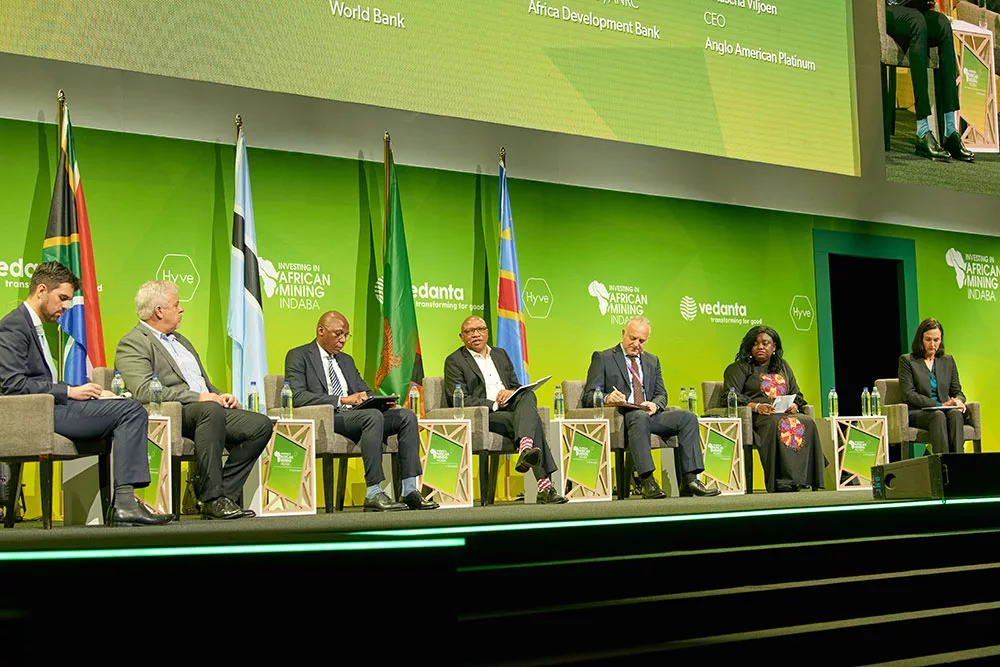 INTRODUCTION
Arriving from as many as 95 different countries – again an increase on 2017's 84 – the global significance of the event is affirmed beyond doubt in a climate crying out for knowledge sharing and innovation. Diversification of attendees was a similarly positive trend as well though, with 37 percent emanating from the mining executive world, 17 percent comprising investors, and 25 percent from Governmental positions; something which Managing Director, Alex Grose believes contributed to the best instalment of Mining Indaba yet.
"Since Euromoney acquired Mining Indaba, the event has undergone significant changes and investment to take it back to a focused deal-making forum while supporting the needs of Africa's mining industry," he says. "In 2018 there was a more deliberate balance between investors, mining companies, government and service providers, and this really came to fruition with features like the Junior Mining Showcase where 50 junior mining companies, all with projects in Africa, were for the first time hosted in the middle of the event in a focused deal-making area."
Head of Investor Relations, Kael O'Sullivan adds: "The Investor Relation programme was also expanded in 2018, providing investors with even more meetings with mining companies across the week."
For the first time ever, Mining Indaba also worked in tandem with community and civil society groups in 2018 to define a common vision for sustainable development in the continental sector.
"This meant the 2018 event played host to even more dialogue than ever before," enthuses Head of Content, Harry Chapman.
---
AFRICA MINING INDABA Q&A
Africa Outlook spoke with Grose, O'Sullivan and Chapman about the key take-home messages from this year's groundbreaking Indaba.
What specific industry trends dictated the key talking points at this year's event and in what ways did the event address these?
Alex Grose: The themes of any year are driven by the research done with all the key stakeholder groups in the months leading up to the event. This year the industry told us that exploration projects were beginning to shoot up across the continent once more, which is why our overriding theme for the whole event was providing a platform for sustainable junior, mid-tier and major growth. For that reason our Investment Battlefield was expanded to enable 22 junior mining companies to pitch their projects to leading investors, and hosted the final on the Main Stage.
Harry Chapman: Sustainable development was a key theme at the 2018 Mining Indaba, being discussed not only at the packed Sustainable Development day on Tuesday 6 February, but also featuring in many conversations throughout the event. Addressing the lack of trust between communities and mining companies, looking ahead to community engagement and working together to define a sustainable vision of Africa's mining sector, these themes came up regularly throughout the week, and is clearly going to continue to be a big theme going forwards.

Given the changing political landscape across the continent, a key theme at the event was cooperation and knowledge sharing between governments. The Intergovernmental Summit hosted panel sessions between African and non-African governments, to ensure that African governments have improved interaction with governments outside the continent.
---
Could you also talk me through some of the speakers at Mining Indaba 2018 and what you feel they brought to the table in terms of industry knowledge and international expertise?
Harry Chapman: For 2018 the Main Stage moved away from static presentations, and instead focused on interviews with industry visionaries to give the audience the opportunity to really delve into their wealth of experience. We were delighted to host a fireside chat between Anil Agarwal, Group Chairman, Vedanta Resources, and Evy Hambro, Chief Investment Officer, Natural Resources and Managing Director, BlackRock, where they discussed strategies for long-term shareholder value and where growth can be found in the mining sector.
One highlight included H.E.Olusegun Obasanjo, the former President of Nigeria and Chairman of the Brenthurst Foundation and author of the Zambezi Protocol, who delivered a keynote address entitled "Partnership: A New Narrative for Africa's Mining Industry".

Alex Grose: With the introduction of the Intergovernmental Summit, Mining Indaba saw the number of ministers speaking on the programme increase from 28 in 2017, to 36 in 2018. African countries represented included Angola, Malawi, Ghana, Zambia, Botswana and Senegal, with global representation from Venezuela, Russia and Ecuador.

Kael O'Sullivan: 2018 also marked the introduction of Mining 2050, focusing on where companies should invest in the disruption age. Industry leaders such as Michelle Ash (Chief Innovation Officer, Barrick) and Donovan Waller (Group Head of Technology, Anglo American) discussed the latest disruptive technology and innovation strategies.
---
What other new and fresh impetuses were added to the Indaba schedule this year?
Alex Grose: The Junior Mining Forum provided emerging mining companies with the opportunity to present and take part in panel discussions with leading experts across the three days.

Harry Chapman: 2018 also saw the Franco-Mine programme move to within the Mining Indaba programme, a platform for exchanges in French, discussing recent or planned changes to mining codes in African countries, as well as recent developments and best practices.
Kael O'Sullivan: Additionally, the World Gold Council took part in Mining Indaba for the first time in many years, hosting a session and reception highlighting gold's value as a strategic asset and its positive contributions to economies and society, attracting key figures from across the African mining sector.
---
From a more general industry perspective, what do you feel are the biggest challenges and trends influencing the mining industry in Africa at present, and how do you see these issues unfolding over the next 12 months?
Alex Grose: This is an extremely exciting time for mining in Africa: President Mnangagwa has recently said that Zimbabwe may lift the 51 percent ownership/ "indiginisation" requirement for platinum and diamond mining companies. In Angola, newly elected President, Joao Lourenco has also made moves to win the trust and support of the global investment community. Angola sent a ministerial delegation to Mining Indaba.
Of course, in South Africa, Cyril Ramaphosa returned from the World Economic Forum saying that "Investors are applauding the dawn of a new era and are waiting for us to follow through with reforms and policy changes". He has also said that SA cannot afford to miss out on the commodities boom that could unlock the mining industry.
Our aim at Mining Indaba is to provide a platform where the sector can debate the big issues, to enable connections to be made, and most importantly to create the 'space' for these engagements. We are mining event professionals, not mining analysts. However, we bring together many commentators and experts at Mining Indaba who discussed this and made predictions about the year ahead.
---
Similarly, from the Mining Indaba's perspective, what are your aspirations and expectations for Mining Indaba moving forward and how would you like to see it grow from 2018 onwards?
Alex Grose: Mining Indaba is a global platform. For five days the world's most influential investors, CEOs from the world's largest mining companies, mining ministers from a majority of African nations, government representation from key countries, and top media brands all meet to share insight and knowledge with each other. No other event creates the networking platform that is Mining Indaba.
Looking to the future, we want to continue to deliver the event that the African mining industry needs, and connect mining companies with investors. We believe that when mining companies source investment, not only do the companies themselves benefit, but Africa also benefits.
---
DOWNLOAD THE AFRICA MINING INDABA SPECIAL ISSUE