Nile Breweries Limited brings cheers to people across Uganda. We speak to Country Procurement Manager, Hillary Muhwezi, about the company's drive to provide brilliant beer, save water, and help the country grow stronger together.
INTRODUCTION
Happiness comes in many forms – beer is one of them.
AB InBev is the world's largest brewer and one that owns a large variety of brewers that produce beverages well known and loved by people across Africa, including Uganda's own Nile Breweries Limited (Nile Breweries).
Established in 1951, Nile Breweries was founded by a group of businessmen associated with the construction of Owen Falls Dam based on the River Nile near its source at Lake Victoria. After several ownerships, SABMiller Plc, the world's second largest brewer, acquired the company in 2001 from the Madhvani family, which was in turn acquired by AB InBev in 2016.
"Nile Breweries is the market leader in the beer industry in Uganda with a 59 percent market share, and has two large facilities, one in Jinja in the east, and Mbarara in the west along River Rwizi," reveals Hillary Muhwezi, Country Procurement Manager at Nile Breweries. "The combined capacity of Nile Breweries with two plants in Jinja and Mbarara stands at 2.45 million hectolitres of beer."
In 2011, the Mbarara Plant undertook a study to determine whether new capacity should be added by expanding the Jinja Plant or via a greenfield brewery at another location in Uganda. Work on the new Mbarara brewery in Western Uganda was completed in 2013 with a total investment of $90.6 million, and Uganda's President Yoweri Kaguta Museveni launched the plant on August 22, 2013. Mbarara has a capacity of 1.1 million hectolitres of beer per annum, expandable to a substantial 1.5 million hectolitres.
The Jinja Plant is the Nile Breweries heritage plant, with a total capacity of 1.8 million hectolitres of beer. This plant sources water from the River Nile on Lake Victoria, giving credence to one of its well-known brands.
"The River Nile is where we draw our heritage from and one of our classic beers, the Nile Special, is a true reward from the source," Muhwezi explains. "Our head office is based in the capital of Kampala, on top of other office locations, and beyond these we have a large supply chain of farmers that we support.
"We locally source over 90 percent of our produce, namely barley, sorghum and maize, so we have an agriculture division of our business that supports local farmers to grow and improve capacity. We have over 10,000 farmers whom we support and buy from directly."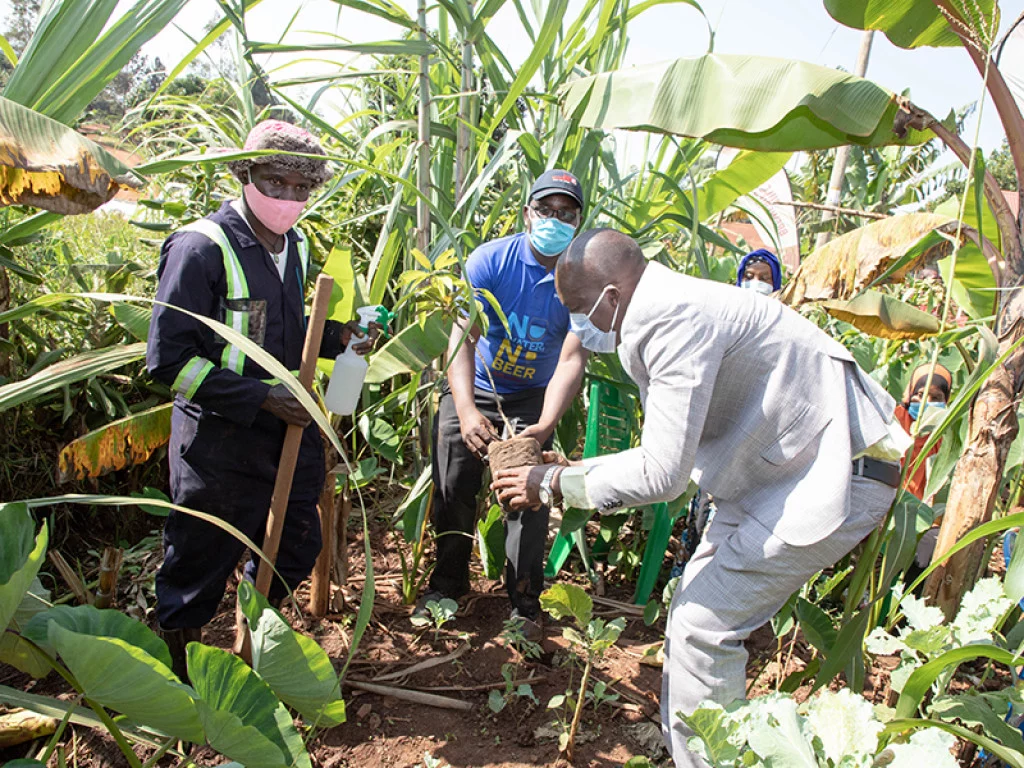 MARKET COMPETITION
Nile Breweries' brands cover both local and international labels sold in the Ugandan beer market, with the former including big sellers such as the Nile Special range, Club Pilsner, Castle Lite, and Eagle Lager, as well as exporting multiple brands abroad, such as the Nile Special range and Club Pilsner to Sudan. On top of this, Nile Breweries also sells international brands such as Corona, Budweiser, and Stella Artois under the AB InBev banner.
In such a sizable continent brimming with rural and urban economic development, the beverage industry is a sphere of constant adaptation and growth, where players have to navigate the market, international and domestic challenges, environmental concerns, and the best brewing practices to stand above and apart from their competition.
"The beverage industry in Uganda is an exciting one with lots of growth opportunities, but it's not without its challenges, especially those stemming from the global economy in light of the COVID-19 pandemic," Muhwezi says.
"On top of this, there are issues when it comes to the illicit alcohol market (making up around 64.5 percent of the market), that puts much more pressure on beer companies in Uganda in terms of operations, as they do not pay taxes and raise unhealthy market competition."
According to Muhwezi, large companies within the beverage industry are among the top tax-paying sectors, and contribute significantly towards domestic growth.
"These kinds of pressures are hitting hard, but Uganda happens to have quite a large, young and active population that contributes towards a rising Ugandan economy and paves the way for greater potential," he adds.
SAVING WATER
While Nile Breweries focuses much of its attention on delivering cheer to people across Uganda and the wider continent, the company does not forget the responsibility that it has for the environment, especially water sources that are so critical to not only beer production, but also people's lives.
"River Rwizi happens to be a very important river in Western Uganda, because almost the entire livelihood of the population in that region depends on it," Muhwezi elaborates. "You cannot produce beer without water, and everyone relies on the water, so we have deliberately tried to investigate how to sustainably operate in our business and maintain cautiousness when it comes to the livelihoods of the country's population.
"At Nile Breweries, we have taken to the fore of river conservation."
The company's Mbarara Plant happens to be categorised as a highly water-stressed plant, the reason being that River Rwizi is seasonal, meaning that water levels fluctuate. This fluctuation means that, when water is scarcer, Nile Breweries must purchase water from municipal facilities which is an expensive option.
In light of this, Nile Breweries has invested millions of dollars in the rejuvenation and restoration of the river, opening up the catchment areas along the river, by supporting people to ensure that the banks of the river are not encroached in times of human activity, and making sure to reduce upstream contamination.
"We have run this kind of campaign for as long as the company has been around in Mbarara, because we know how important the river Rwizi is," Muhwezi tells us proudly. "We also have initiatives with stakeholders that look into alternative sources of water in the area to ease the use of the river.
"In terms of alternative conservation, we also have projects that we run in farming-heavy rural areas through our corporate affirms department. That includes the provision of clean water through establishing boreholes, of which we have constructed quite a number to support individual farming families' livelihoods. Nile Breweries also offers scholarship campaigns across these same rural areas in the country, to support the population when it comes to accessibility of resourceful education."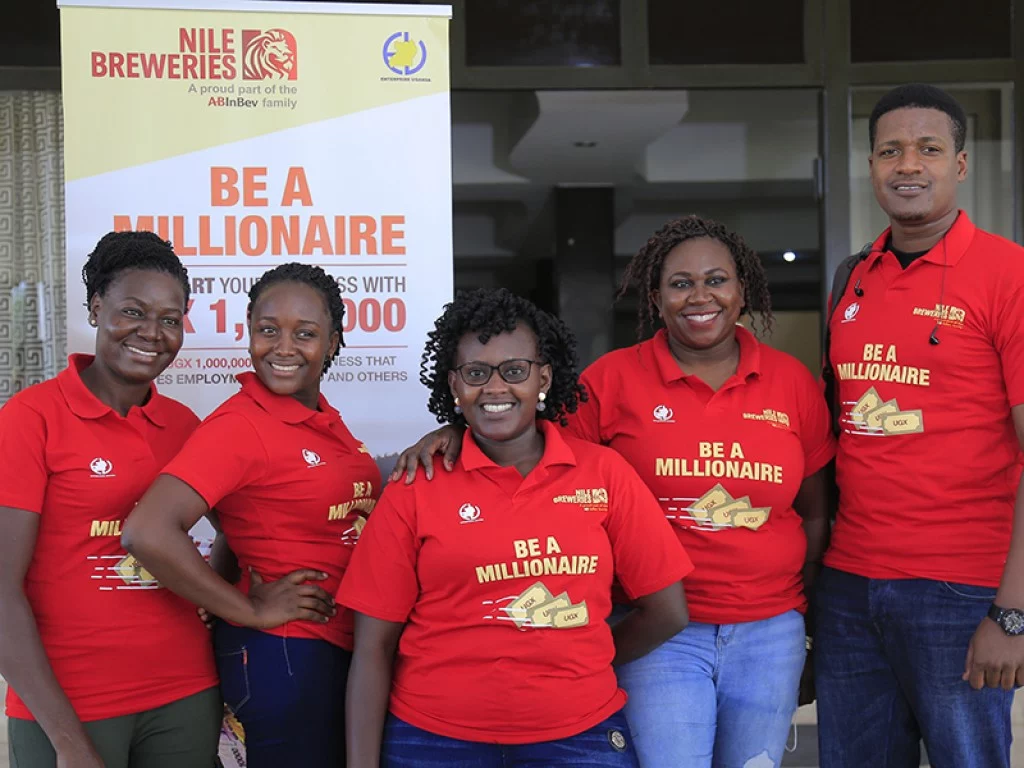 A FUTURE OF CHEER
Meanwhile, Nile Breweries ensures that it supports future generations through a variety of means, such as its Be a Millionaire campaign, where the company supports young entrepreneurs across the country to help establish start-ups, and the Smart Drinking campaign that is synonymous with the business, relating to the health and happiness of Uganda's population.
"We also make efforts in the healthcare field. We do blood donations, which is very much a part of our community efforts, and during the COVID-19 pandemic, we were one of the biggest companies that came out to support the country during its time of need," Muhwezi elaborates.
"Nile Breweries contributed one of the largest donations of oxygen when the population needed it, and we spurred on a very significant drive for vaccinations and the facilitation of such vaccinations for our population. This has come in very useful for spearheading the recovery of our national economy."
Nile Breweries holds the continuous aim to better Uganda through company growth. Through the expansion of the business, the company provides more than just beer; more local farmers, suppliers and domestic businesses see a demand for their produce, meaning increased sales and profit to increase livelihoods, and a widespread impact that raises Uganda's economy as a whole and strengthens the country.
"Our biggest drive is towards a future with more cheers," Muhwezi says. "We really want to help create a future where people are happy. Equally, our plans are to become a stronghold for the growth of the country, as we are one of the biggest payers of taxes nationally, and we hope to grow to only build this and develop Uganda further.
"There have been many challenges in the industry stemming from past restrictions due to the COVID-19 pandemic, and rising inflation due to the war in Ukraine, but our culture allows us to see these challenges as opportunities to leverage. We are heading in a very digital direction at the moment, both in terms of supply chain and customer transaction, and our digital transformations are helping us streamline business to continue delivering quality beer, good times, and economic prosperity in Uganda."