Solomons – St Helena is a vibrant, diverse company of 24 business units that has been running for 230 years on one of the world's remotest islands.
INTRODUCTION
St Helena – a windswept, volcanic island lying just under 2,000 miles off the West Coast of Africa in the South Atlantic. Its neighbour is the world's remotest island, Tristan da Cunha. But despite its isolated location, St Helena is saturated with history.
The island was first discovered in 1502 by Portuguese navigator João da Nova, as it lay on the route of the Trade Winds, the route ships used to take when going around the Cape of Good Hope and across the South Atlantic. The Portuguese used the island as a rendezvous point on long voyages – ships could stop here to re-provision and sick sailors could wait for a passage home.
However, the Portuguese never set up a permanent settlement on the island, and by 1657 the British East India Company had annexed it, built a fort and levied a tax from all ships that docked. The British Crown later took over its management and began a tradition of exiling prisoners to its remote shores, the most famous of whom was Napoleon Bonaparte. St Helena has received several other illustrious visitors over the years, including Charles Darwin, who was fascinated by the island's unique endemic flora and fauna.
These days, the island has a population of 4,500 'Saints', made up of expats, islanders who moved away and then returned, and those who never left.
Mandy Peters, CEO of Solomons, belongs to the second category.
"St Helena is home to me – whilst I have worked abroad for some years, (as is often the case with many St Helenians), it was inevitable that I would eventually return to settle in St Helena at some point," she says.
"It is unique to live in St Helena – although likely many locations could claim the same. St Helena grows on you over time and is multi-layered, revealing itself increasingly from an initial impression as a destination to visit, to the resilience required to achieve goals in a challenging working environment and capped by the many benefits as a home environment," she continues.
"Working in St Helena requires strength of resolve and perseverance, an ability to be resourceful and an innovative approach to overcoming constant challenge due to the limited customer base, logistical difficulties and limited resources. Yet living in St Helena offers a wealth of positives which that same isolation delivers, in terms of the warmth of a close-knit community, the opportunity to reconnect with nature within minutes due to its proximity and the time and space for reflection."
After five years of working in senior management on the island, Peters saw an advertisement for a CEO position at Solomons, which sought someone interested in people-focused leadership and offered a diverse range of business interests to manage. She was delighted when she got the job.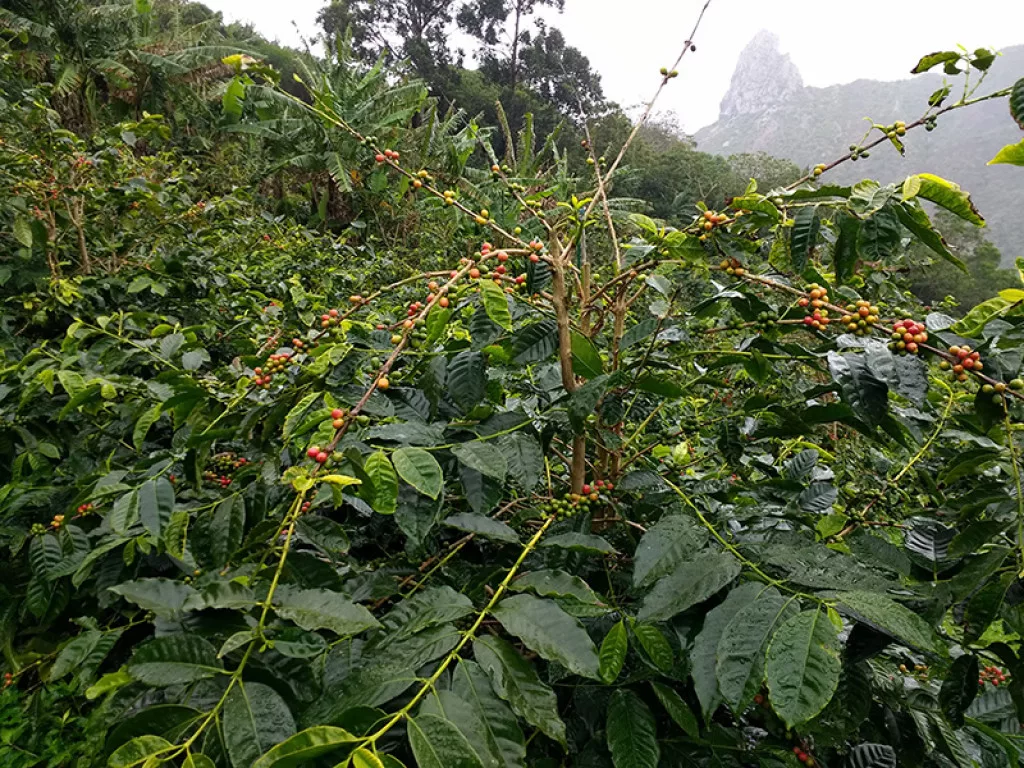 A FASCINATING LEGACY
Solomons has been in business for 230 years and has long been a household name on the island.
Its story begins with Saul Solomon, a boy travelling to India from the UK with his parents – upon falling ill, he was left on St Helena by his family to perish. But Saul survived and in 1790 started a general store. By 1800 he had opened a boarding house and was charging 30 shillings a day. Napoleon's arrival on the island caused the population to double to 8,000, and Solomon began to specialise in luxury and commercial trade.
"Today the Solomon family no longer holds shares in the company and whilst the majority shareholder Great Peter Nominees holds for the St Helena Government (SHG), there are indications that SHG could divest itself of its shareholding in the future," explains the CEO. "Other shareholders are largely local and Solomons is truly an island company."
The company's interests in mercantile and property development continue to endure, but the business portfolio has naturally expanded and diversified over the years. It now has a portfolio of 24 operating units. While over 50 percent of its turnover comes from wholesale and retail operations, it also provides bakery products, beef and pork for the majority of the island. Meanwhile, its St Helena coffee has gained international prestige – made with homegrown green-tipped Bourbon arabica beans imported from Yemen hundreds of years ago, it is exported as a luxury product to Japan, Romania, Belgium, France, UK, Germany and the USA.
Alongside this, Solomons also provides a range of services in shipping, travel, freight, stevedoring and wholesale and retail fuels, together with resourcing contracts for airport operations. It offers an insurance portfolio of covers, whilst also providing small scale building, electrical and auto shop services. Another string to its bow is its travel agency – it helps tourists arrange flights, hotels, accommodation, car hire and customised itineraries.
Across its 24 business units, the company supports over 200 employees, making it the largest employer on the island after the St Helena government. Indirectly, it supports many more.
"All local businesses are interconnected to some degree. Whilst there is a competitive environment with businesses all vying for market share in a very small customer base, there is also respect and support for partner and supplier relationships, as we are reliant on each other and generally value each other in a unique way perhaps not ordinarily associated with business relationships," Peters says.
Alongside supporting its island community, the company stays true to its roots by sensitively restoring historical buildings and artefacts, while striking a balance with the tasteful modernisation its customers require.
For example, in 2016 the Solomons Works Team refurbished the company's Malabar property (a late 19th century Grade II listed building) from a vacant warehouse to become the hub for its shipping and insurance businesses. The exterior of the property was restored to maintain its heritage features; the corrugated iron shutters were removed from the windows and disabled access incorporated into the entrance design. The interior was sensitively renovated, retaining the character of the huge girders and columns, re-using the original flagstones, exposing original stonework behind lighted panels and adding suspended lighting.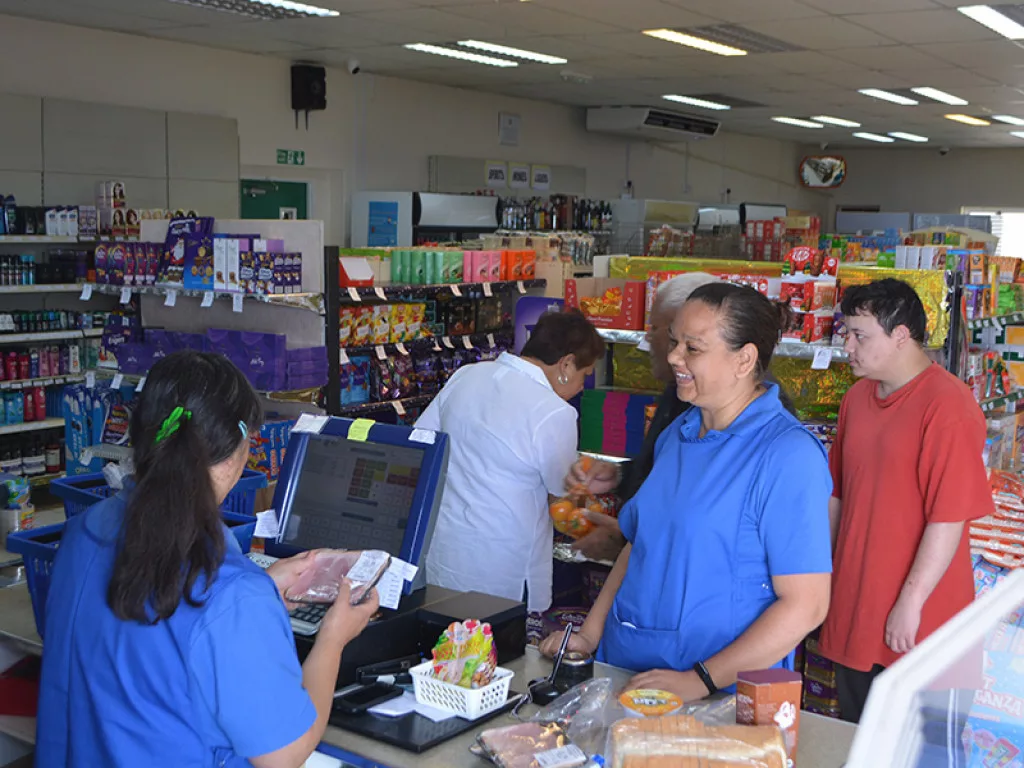 COVID-19 AND HOPES FOR THE FUTURE
Over the past couple of years, Solomons has also been working on a tourism offering. Until 2017, any visitors to the island had to make a long journey by sea. But then an airport was built, and flights from South Africa signified a momentous opening up of tourism opportunities for the island.
"St Helena was still in its infancy in developing a commercial tourism product when the COVID-19 pandemic struck," Peters says. "Cruise ship visits to the island were suspended; there have been no commercial flights since March 21, 2020, with the inevitable downturn in commercial tourism development.
"St Helena has, however, as a result of these measures, remained COVID-free to date and the company is fully supportive of the protective measures and indeed has been at the forefront in protecting its employees through engagement with local authorities in support of COVID-19 prevention measures."
According to Peters, the majority of the islanders support preventative measures – despite the damage to the economy, an outbreak of COVID-19 could have a devastating effect on an isolated community with limited medical resources.
Solomons' shipping and travel interests have inevitably been affected, especially its airport operations resourcing contracts. Earlier in the year, its supply of merchandise from the UK and South Africa was disrupted, although this has since stabilised. This bought home the importance of partners and suppliers, upon whom the company is almost entirely reliant.
"With limited local production on the island and with literally every item required for daily living needing to be imported, the support of our external agents and supply partners, particularly our partners and suppliers in South Africa, has been crucial to sustaining day to day life in St Helena," the CEO says.
"Our agents, in particular the Master and crew of the MV Helena and Meihuizen International, were and continue to be invaluable in their support to ensuring the logistics of our supply from South Africa."
Even before COVID-19 hit the world, Solomon's Mercantile procurement team works with what Peters refers to as a 'logistical nightmare' – the island's freight service operates once a month between South Africa (Cape Town) and St Helena, with UK imports transhipped to Cape Town to connect with the freight service there.
"Our team orders goods today that customers will want to consume in three months' time whilst balancing one shipment on the water already and one in the warehouse," Peters says. "For any deficit in supply there is no option to request a next day delivery of a consignment of goods! Consequently, our supplier and partner relationships and their understanding of our logistical challenges have been established over years and are invaluable to our day to day survival."
In the year ahead, Solomons' immediate concern is to develop key business interests that will allow it to navigate through this period, focusing on the limited customer base currently available to it. In order to do so, it will need to innovate and re-engineer itself.
"Continuing to contribute to the socioeconomic fabric of society in St Helena and fulfilling our purpose will be vitally important to us and we will strive to maintain our workforce, to provide opportunities for our employees to develop and grow, to enable us to sustain our service delivery to customers and to maintain our considerable presence in the local business environment, through these difficult and turbulent times," the CEO proclaims.
But despite the difficulties encountered by the pandemic, Peters remains positive about the endurance of both the company and the island. She hopes that once COVID-19 is controlled, the resumption of tourism will enable St Helena to become a destination of choice once again.
And there's another exciting development on the horizon – after many delays, St Helena looks set to be connecting to Equiano, a new fibre-optic subsea cable. This will give inhabitants access to a fast broadband connection for the first time, which will provide a wealth of social and economic benefits.
"Specifically for Solomons, we see potential for developing online systems, utilising cloud based storage to reduce costs and achieve efficiencies, exploring greater capacity and capability to enable innovation in our service delivery and to open new doors to new opportunities we perhaps have not yet even thought about," Peters says.
In other words, St Helena is on its way to becoming a globally connected island with a rapidly digitising economy and a growing tourism market. Opportunities for investment are ripe, and Solomons is interested in partnering with like-minded businesses or individuals looking for a unique location from which to operate.
"Long-term success in business is achieved not by one leader but through the collective input of a diverse and engaged team of people," the CEO explains.
It is clear that whatever happens on the island, Solomons will be there to help through the good times and the bad.
VIEW THE SOLOMANS – ST HELENA BROCHURE