TAAG Angola Airlines is focused on bettering the customer experience. We take a look at the company's digital developments, which are putting people first and keeping it ahead in the market.
Digital tools and connectivity are the cornerstones of progress and success in an ever-growing digital age. Greater communication, information and data gathering, monitoring, e-commerce, business analytics, and customer experience are all reliant on the level of technological and digitalisation incorporated into an enterprise.
It is for these reasons that companies, no matter which industry and market they operate in, are investing heavily in the digital side of business development.
Within the African airline industry, TAAG Angola Airlines (TAAG) is one such company taking great strides in its digital transformation, becoming increasingly customer-orientated and operationally streamlined.  
Based in Angola's capital city of Luanda, TAAG was founded in 1938 and for more than 80 years has connected Angolans with its key domestic and international markets. TAAG is the leading airline in the country, recognised worldwide for its strong, high-yield market, having grown its current network to 14 domestic and 13 international destinations. In addition to passenger transport, TAAG operates air cargo services which have become essential for Angola's growth and development. At its centre, the company prides itself on a strong track record of service and performance excellence.
Leveraging its digital footprint, TAAG recently launched its new website, available to all parties and forming a new key channel for customers and passengers to request services online.
In line with the company's commitment to excellence and a greater customer experience, TAAG's website launch provides value-added propositions to customers, passengers, and its general audience. The platform is available in four languages (Portuguese, English, French, and Spanish), and boasts seamless navigation and easy access to key functionalities such as bookings, ticket acquisition, online check-in, seat quotation, multipoint routes, and more. Aligned with the best commercial practices in aviation, TAAG is focused on digitalisation, aiming to establish the new website as the preferred platform for customers and passengers to request services.
Overall, the benefits of such an investment encompass full autonomy, 24-hour self-service availability, agility, and security. The website has been fully optimised, is more user-friendly, appealing, faster at processing commands, interactive, and — critically in this growing digital age — mobile responsive.
TAAG's newest features have been incorporated into the website, namely the TAAG Upgrade promotion. This tool (subject to the terms and conditions) allows passengers to request an upgrade to their original ticket and be placed in a higher class. With TAAG Upgrade, passengers are invited to make an offer on top of the amount they have already paid for their tickets to move to a higher-class cabin (business or first class), as long as such seats are available.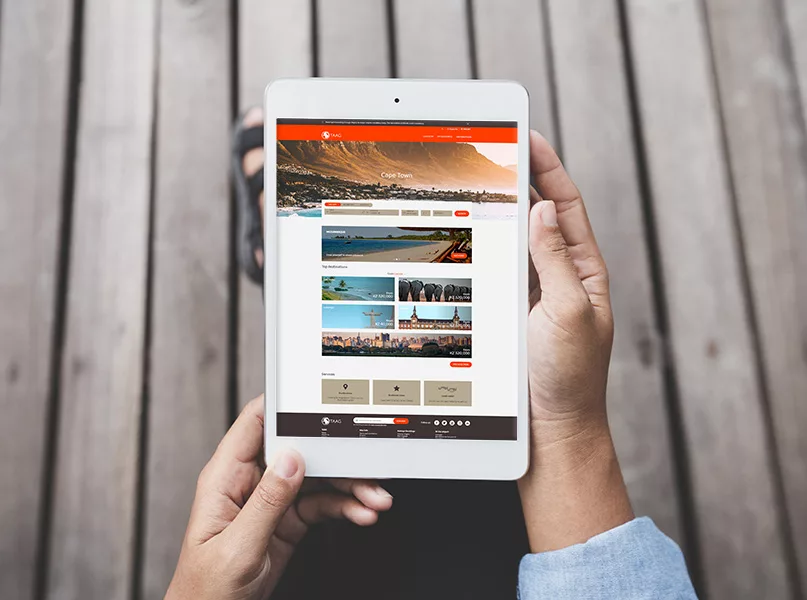 For the company, TAAG Upgrade auctions are a way to drive increased revenue from ticket sales. These auctions are possible through the integration of the Plusgrade tool, which allows TAAG to auction empty premium stock seats on each flight among passengers with reservations in lower category classes. In these auctions, passengers have the ability to submit an offer that they are willing to pay to upgrade their flight class. The upgrade offer is per one-way flight and does not apply to return flights, however, the promotion does not stop passengers from placing offers on other individual tickets. Along with the upgrade in class seating comes the additional benefits of such classes, including increased baggage, fine dining, priority boarding/check-in, lounge access, more comfortable, spacious and even private seating, as well as a host of upgraded policies. Of course, each of these upgraded benefits is reliant on the kind of seating upgrade (Plusgrade First or Plusgrade Business) passengers bid for.
TAAG Upgrade is both an intuitive and uncomplicated system, with passengers benefitting from a simple and efficient customer journey. Customers can simply check their eligibility to enter the auction by searching with a reservation number and surname, submit a value offer for the upgrade of their ticket to a higher flight class, then pay for the offer online if they succeed. TAAG analyses the offers based on criteria and pricing, and it is one to three days before a flight's departure date that the company's automated processes accept or decline a passenger's offer.
The addition of both an upgraded website and TAAG Upgrade has made the customer journey easier and more useful than ever before. TAAG will therefore continue to embrace innovation, quality, and convenience for customers, as the new website represents the first milestone towards the company's comprehensive modernisation and digitalisation process, with TAAG Upgrade at the fore of its customer-orientated offers.