With the goal to reach 45,000 households in the next four years, WidEnergy is the female-founded start-up delivering sustainable energy and empowerment for the women of Zambia.
WOMEN LEADING THE LAST MILE
In a country where access to electricity stands at 31 percent – and just 11 percent in rural areas according to the Africa Hub of Sustainable Energy for All – there is a pressing need for last mile distribution.
At the forefront of addressing Zambia's energy demands, WidEnergy Africa is the inspirational company dedicated to the empowerment of women and providing last-mile distribution of clean energy solutions.
Since inception in 2016, WidEnergy has evolved from a humble start-up employing women as door-to-door agents, to a company of scale and ambition, backed with the funding of significant partners. We lift the lid on the women changing Zambia's energy landscape with CEO and co-Founder of Wid Energy Africa, Ms. Lliane M. Ndananeze.
Q&A WITH MS. LLIANE M. NDANANEZE, CEO AND CO-FOUNDER, WIDENERGY AFRICA
What drew you to work in the energy industry, particularly in Zambia?
Ms. Lliane M. Ndananeze, CEO and Co-Founder (LM): I was inspired by the need to give back by making a positive change and impacting people's lives. In 2013, my family and I relocated to Zambia after spending seven years living and working in Washington D.C. During a trip outside Lusaka, we visited a clinic where nurses had to use their phone torches to help a pregnant mother deliver her baby, and they explained how access to electricity was a big challenge in the Chinyunyu neighbourhood. That was my "aha moment" and from then on, I knew I was going to spend the next chapter of my life working with women to turn this around. Two years later, we went back to the same area, recruited and trained women as sales agents to sell Pico-solar products on a cash basis. And that is how WidEnergy was established in September 2016.
Could you briefly introduce us to WidEnergy Africa?
LM: WidEnergy Africa is a company that focuses on a lending portfolio and a distribution network. We offer an affordable path to electrification with our Pay As You Go (PAYGO) solar solutions. Our mission is to empower women to become the champions and advocates of clean and renewable energy.
We conduct direct sales in local communities, working with our door-to-door sales agents whom we recruit and train. Our field teams, 40 percent of whom are women, own the sales and the on-boarding process. This also allows our field teams to build solid and long-term relationships with our customers within their communities. Customers are connected to energy, the internet and mobile money at each point of sale. Our goal is to reach 45,000 households in the next four years and to directly impact up to 300,000 people in Zambia.
Why is it so important to you to empower African women as agents for climate change?
LM: Despite the ongoing rhetoric about women's empowerment, we are yet to witness tangible progress. Investing in women pays dividends since women invest 90 percent of their earnings in food, health and education for the household. Given the significant role that women play in Africa and Zambia in particular, whether in the formal or informal sector, at WidEnergy we believe that any efforts to empower Africans as agents for climate change must include women.
Besides, agriculture and electricity supply are the most affected by climate change in Zambia. In such situations, women and children are the most vulnerable. To me, it's a no-brainer, we cannot reach our goals without involving women.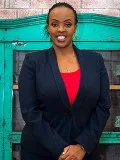 What are some of the ways you think Africa can achieve gender equality in the off-grid solar sector?
LM: In terms of how WidEnergy is achieving this, we provide our beneficiaries with affordable and quality access to renewable energy. Since our solar home system kits are bundled up with mobile phones, it gives our beneficiaries, 56 percent of whom are female, more opportunities to access other digital platforms such as mobile money, which was recently classified as one of the catalysts of sustainable development by the GSMA (a global organisation unifying the mobile ecosystem to discover, develop and deliver innovation foundational to positive business environments and societal change) and the UN.
Access to renewable energy has given our female beneficiaries an opportunity to sustain and scale up their small business activities. Such is the case with many of our customers who have been able to save, and with those savings, send their children to school.
Our female sales agents, who earn a commission on kits sold, say that the best reward is being able to provide for their families. Being empowered has given them a voice, and they have seen first-hand the positive effect that off-grid solar has on their families but also within their communities.
Tell us about your funders especially AECF and how they have helped you in your journey? Do you believe that more support to SMEs is needed?
LM: I am grateful for the support we have received and continue to receive from AECF, that has allowed WidEnergy to grow our engagement on matters to do with gender equality, creating jobs for those at the lower end of the pyramid while creating economic opportunities for many women. AECF invested and believed in WidEnergy when we were a start-up, women-led, and underfunded at the time.
AECF provided us with a non-repayable grant, an interest-free loan and technical assistance, all of which have tremendously strengthened our business. The funding from AECF became our stepping stone to the PAYGO business model, a capital-intensive model. AECF, being our first investor, played a significant role in the subsequent funding we received from the Rural Finance Expansion Programme, Energy and Environment Partnership Trust Fund, Innovations Against Poverty as well as GSMA.
SMEs in Africa require support in terms of funding and advisory services. This will allow them to prove that their innovative business models are not only sustainable, but that they can also advance gender equality in the communities that they serve.