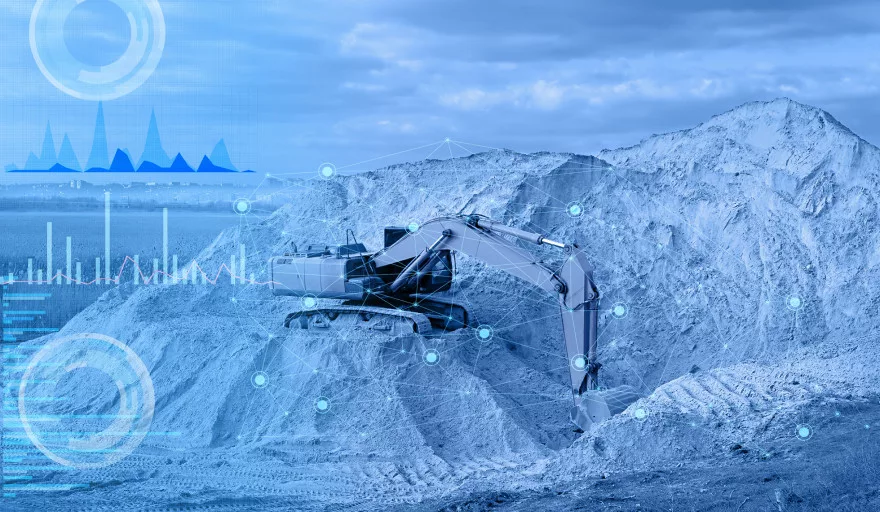 As new technology begins to infiltrate Africa, the continent's mining sector is primed for digital transformation
Writer: Sean Galea-Pace
The speed of technological change is astonishing.
As such, companies must work quickly to keep up with the latest trends in industries across the globe or risk falling behind. In the past, mining wasn't often considered an industry at the forefront of innovation. Now, digital transformation is well and truly here and the rapid rise of mining digitalisation, in tandem with regulatory changes, is set to spell evolution for Africa's mining sector.
The focus of new technology in the mining industry is based on developing new business solutions that counter cost and risk. Due to the considerable opportunities presented by such technology, it is vital for developing countries, particularly those in Africa, to harness enabling environments in which innovation can come to the fore and those in the mining industry can explore new strategies that enhance mining returns.
The digital future brings tremendous opportunity. Digital advances mean quicker and better decision-making that reduces performance variability, while scaling equipment utilisation and safety performance, and moving organisations from a reactive management approach to targeting the future with insight and confidence.
Autonomous vehicles will improve productivity, help with costs and enhance safety. Drones will be used for data collection, inspection, stock control and safety monitoring. 3D printing will reduce lead times and inventory holding costs for essential components. Wearable technologies will be leveraged for enhanced operator safety and support real-time machine instructions. An IoT enabled sensor network provides low-cost real-time data across operations.
Digital Twins in Mining
A digital twin is the creation of a virtual 3D replica of physical assets, structures, equipment or entire mining sites. It is an accurate representation of real-world assets and is the baseline with real-time SCADA data attached to it. This consists of live IT data such as temperatures, pump pressures, flow rates, electricity consumption and more.
A digital twin allows users to collect, process, monitor, manage and share information about a particular asset. This combines reality data, engineering data and IoT data to create a holistic overview of both surface and underground infrastructures which allows users to conduct 'what if' analyses and perform right-time monitoring. A digital twin allows project teams to automate collaboration protocols thereby allowing efficacious co-operation. This helps to mitigate against mistakes and duplication through the incorporation of multiple data sources into a centralised digital reality model, providing team members with a single source of truth.
A New Age
The effects of digitisation will extend beyond the core operations to the supporting processes and systems of functions such as supply chain, HR and finance. This will mean a complete restructuring of corporate structures and processes and should consider opportunities to leverage Robotic Process Automation (RPA), the convergence between information and technology and operational technology as well as integrated communication networks to support mobile workforces across all platforms.
Technology advancements that will play a key role:
• Integrated Real-Time Resource Planning – An opportunity across the value chain to improve the frequency of mine planning and scheduling through automated surveying and reconciliation of resources, combined with equipment, material and workforce tracking and visualisation would allow optimal matching of resources and equipment, demand planning and performance management.


• Adaptive Mine Planning – Mines already gather ore-body information from a number of sources, including drill hole data and face inspections. Combined with geological data the opportunity is to use sophisticated data analysis techniques to understand this better and more quickly.
• Predictive Maintenance – Avoiding unplanned downtime. Leveraging and applying predictive analytics on data already available from key equipment to predict failures and proactively schedule maintenance work orders, including integration into the supply chain for parts ordering.
• Automated SHEQ processes and predictive safety – Wearables enabled employee fatigue monitoring and communication, combined with position tracking, digital compliance logging and cognitive predictive analysis of safety incidents. This can help decrease utility consumption, improve operational efficiency and reduce safety incidents.
• Maintenance Artisan Assist – Automated breakdown logging, notification and repair process optimisation, supported by predictive trend and risk classification. Field workers functions can be enhanced by augmented reality enabled visual guides and smart remote support. Improving the quality and efficiency of maintenance work.
• Short Interval Control – Near real-time tracking of execution against plan at a task level. This will allow leadership to manage operations on input metrics and leading performance indicators and provide the visibility to eliminate execution waste.
The Future of Mining
African mining is at a crossroads, and the technological innovation at its fingertips is significant. Digitisation incorporates areas such as autonomous operations, digital twins in engineering and maintenance and a range of different equipment sensors. Real-time information, predictive analytics and monitoring of production, cost, efficiencies, and employee data will be managed through applications.
The ways of working within the African mining industry is set to transform as mining operations become digitised and increasingly technology-driven. This will mean that workers will be able to engage with their employers in a different way. The digital workplace allows digitally connected communication, collaboration and a more flexible and agile workforce. The mine of the future requires leadership that embraces a culture of data-led decision-making and operating with an open-minded, new way of thinking.
In order to get set for the future of mining, businesses must optimise existing processes to help support the new way of working, while industry leaders in a digital mining environment must adapt to a rapidly changing technological landscape, as well as a new normal. The possibilities are infinite.