Marika Abrahams, Project Director for Berman Brothers Group, speaks to us about the passion and dedication that goes into the poised elegance of modern, urban living.
PERFECTION, ELEGANCE, AND TIMELESS LUXURY
In 1994, before Cape Town's Riveria, also known as the Atlantic Seaboard, was the bustling and idyllic mini-metropolis that it is today, Paul and Saul Berman saw the infinite potential of this destination and utilised their entrepreneurial passion to create a cutting-edge development company – Berman Brothers Group (Berman Brothers).
Now proudly boasting nearly 30 years of innovative experience, Berman Brothers has created and strongly maintains a hard-earned reputation for reliability, financial jurisprudence, ethics, and creativity in an ever-changing environment.
Marika Abrahams, Project Director for Berman Brothers, highlights the excitement of working within an evolving industry, the major projects that have defined the mythos of the company, and the truly untapped promise that the future holds.
"It is a riveting space to be in and, given the nature of this industry, we are always innovating and problem-solving to best utilise and unlock the potential value of our properties," she opens.
With extensive experience in architecture and urban design, Abrahams has been working for Berman Brothers since 2017 and has since become enthralled by the construction management sector, with a focus on projects completed in the Atlantic Seaboard.
"In an industry which has historically been dominated by men, it is great to be alongside women who are taking up pivotal roles in the construction process both on-site and in management teams," expands Abrahams.
As a company that consists of a small team with no more than 20 people, Berman Brothers has never been timid about paving the way for an equal future and has always valued diversity and collective input, ultimately leading to the best product.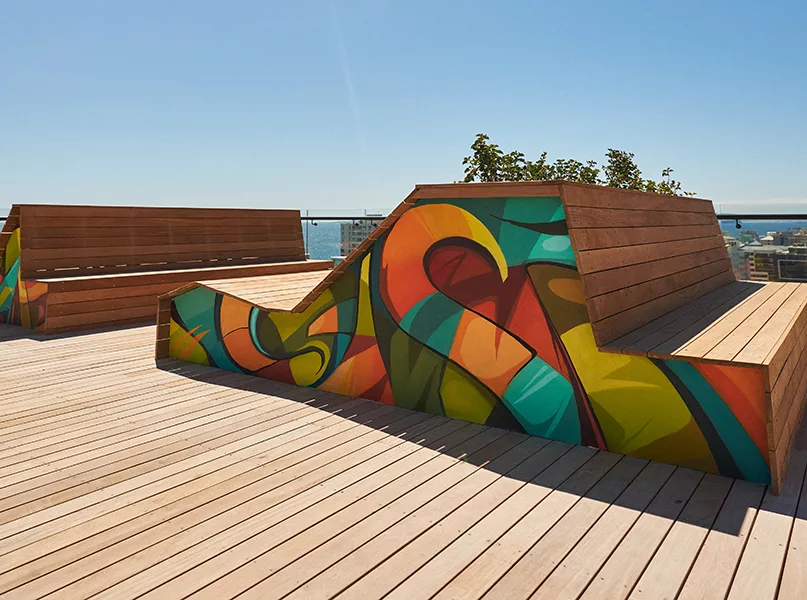 MAKING BIG PROMISES AND SURPASSING EXPECTATIONS
With the delivery of high-quality projects, the technical strength of a multifaceted team, and a full and intimate dedication to achieving world-class results, Berman Brothers truly adds value to any community.
"We do not simply hand over projects and walk away, but believe in what we produce and often remain involved in the ongoing management of the properties we build," notes Abrahams.
"We value community-centred buildings and provide for the "in-between" communal spaces as an extension of the living experience."
The brothers maintain that they leave a piece of themselves in every development and see the beauty in the individualistic design of a building that takes inspiration from its surroundings while always taking the space's unique functional needs into account.
The amount of love and passion that is poured into each design is evident and consistently growing as Berman Brothers employs young professionals who are positioned to offer tremendous value to the construction industry both now and in the future.
"We aspire to be mentors and leaders in an environment which lends itself to outstanding growth and all-encompassing sustainable lifestyles," comments Abrahams.
Additionally, with a compact team, staff are empowered to apply their expertise to various facets of the company and cross-pollinate their skillsets, an environment that is conductive to personal growth and development.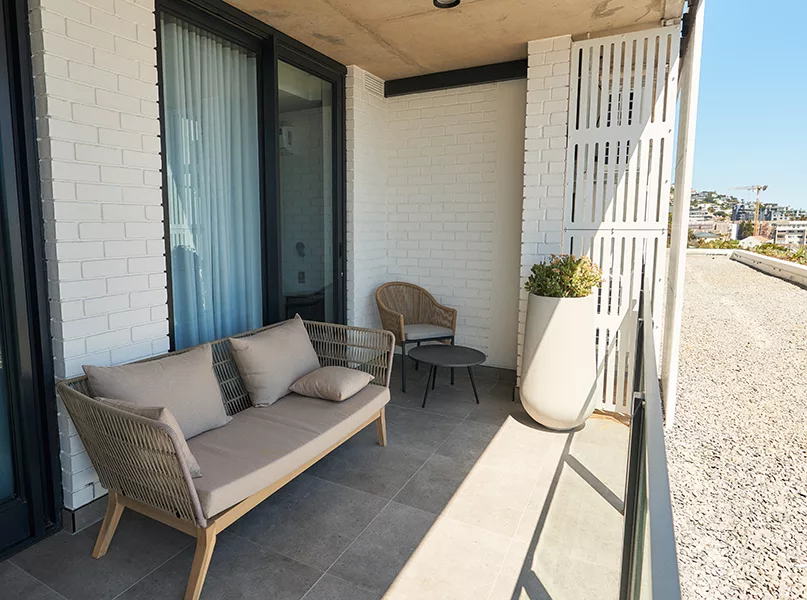 BUILDING A SUSTAINABLE COMMUNITY
With the Atlantic Seaboard being one of South Africa's most densely built-up urban environments, it is the ideal location to develop in a brownfield urban environment, where existing buildings can be reimagined and redeveloped to maximise their potential.
Not only does this allow for the development of trailblazing and pioneering new projects, but it contributes to the urban regeneration of its local context, further growing the opportunity for ultimate urban living in such a picturesque location.
Similarly, the importance of environmental stewardship is becoming increasingly prominent and a primary conversation that those in the industry are examining at a critical level.
"The industry as a whole is waking up to the impact of climate change, and we have always taken a proactive approach to implementing technologies that best preserve our country's natural resources, in particular harvesting solar energy and water," narrates Abrahams.
To begin this journey towards environmental efficiency, Berman Brothers recently launched its sister alternative energy company, which focuses on solar energy systems to offset the construction industry's large carbon footprint.
Looking towards the future, the company is currently in the application phase for two projects, one of which includes a hotel complex with approximately 50 sea-facing units and an apartment residential component of 50 units built above street-facing retail components. The second project, meanwhile, will comprise 120 residential units, expansive underground parking, a large retail footprint, and inclusive communal facilities.
Each one of these locations will ensure that they follow best practices regarding environmentalism, indirectly employ a large workforce, and contribute hundreds of millions of rands to the local economy.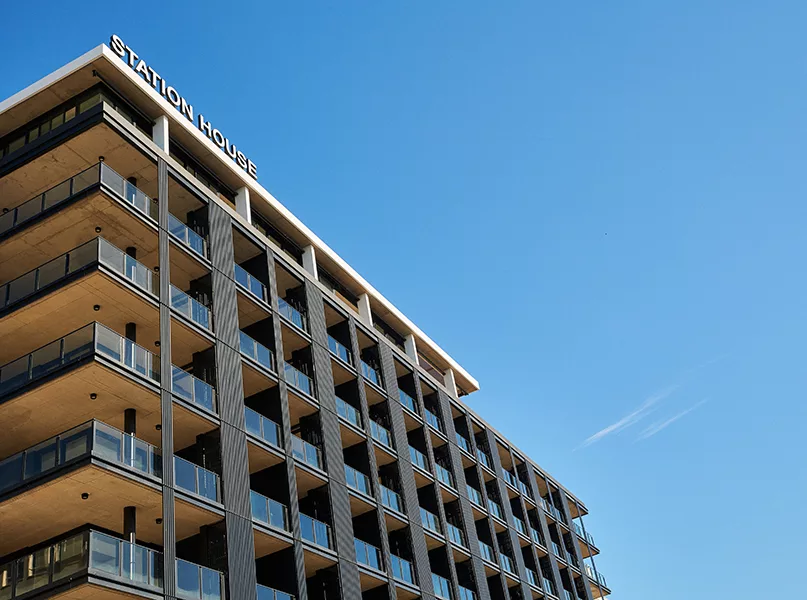 STATION HOUSE
Embodying Cape Town's unique charm and capturing the essence of the city's soul, Station House is where luxury living meets the heartbeat of the Atlantic Seaboard.
As one of the most prestigious developments to date for Berman Brothers, this 200 residential unit, mixed-use building was completed at the end of 2022. Boasting a hotel consisting of 46 units, two restaurants, as well as a pool, beauty salon, laundrette, pet park, fitness centre, and co-working facilities, Station House collectively employed over 200 people per day over a long horizon period of at least 10 years.
"The project in its conception was born at a time when the COVID-19 pandemic hit and brought the construction industry to a complete standstill. The developers reinvented how an apartment building is envisaged," elaborates Abrahams.
"Of the 33,000 square metre (sqm) constructed area, 3,000 sqm (10 percent) is set aside for amenities, bringing the embedded "sleep small, live large" concept to life. Usually, developers are not incentivised to provide these facilities, but we value the importance of community."
As an important intersection of the past, present, and future, Station House was named after and heavily inspired by the history of the site while still setting its gaze towards the infinite possibilities of the future.
"In keeping with our company beliefs, the Station House name originated through uncovering the site's history. The site is situated adjacent to where the Sea Point Tram Station was first opened in 1862, which enabled modern transportation and trade across the region," notes Abrahams.
"In a more modern context, Station House also pays homage to the Sea Point Fire Station situated outside of the entrance. The developers foresee the building having the hustle and bustle of a modern-day station platform."
While the complex itself is not certified as a green building, many of the design features that were incorporated in the project were centred around sustainability and long-lasting efficiency.
This includes working with architects Vivid Architects, interior architects In House Design Studio, and engineers Moroff and Partners Consulting Engineers on the provision of canopies and balconies around the building's edge to provide sun protection, the use of performance glass to reduce the heat load, edges with green plants throughout the façades that have reduced the urban heat island effect, and the building itself being constructed as a concrete frame and slab system to provide embodied mass to aid in passive heating and cooling.
A revolutionary approach was taken when constructing this project, split into two main contracts. Construction of the superstructure was completed by Viva Projects, who employed 120 labourers for eight months; the fit-out was completed by R+N Master Builders, who employed 250 labourers a day for 11 months.
A project of this size is a big investment into the local economy and therefore local suppliers, ultimately resulting in approximately R650 million being infused into the Cape Town economy and the surrounding area.
With nearly 30 years and counting of innovative construction, commitment, and persistence under Berman Brothers' belt, it is clear that consistency is always at the forefront, and that passion and enthusiasm are at the heart of every design the company produces.
From the big aspects to the small, Berman Brothers paves the way for the future of next-level living, opening the doors for everyone.