"Quality, responsiveness, and speed," Justin Colyn, Chief Sales and Marketing Officer at Comsol Networks South Africa, discusses the company's quality provision of wireless connectivity.
INTRODUCTION
As a young kid, I was always interested in electronics; my dad ran his electrical contracting business and I worked for him during my school vacations. This really cemented the 'engineer' in me."
For Justin Colyn, Chief Sales and Marketing Officer at Comsol Networks South Africa, work is more than just that; it's a passion. This passion in the field stems from his innate interest in problem solving; a trait that has led him to the position he holds in the company today.
Comsol Networks South Africa specialises in providing licensed wireless connectivity infrastructure for companies and government entities, no matter the size and complexity, and across all sectors that comprise a hybrid of private and public connectivity solutions.
Comsol's focus on laying a solid foundation in line with the Fourth Industrial Revolution (4IR) spans across enterprise grade and broadband last mile connectivity, WiFi solutions, low power long range (LoRa) IoT solutions, and 5G-FWA (fixed wireless access) solutions for LAN, WAN and Campuses.
INDUSTRY AFRICA
"The telecommunications industry in South Africa has been and remains extremely exciting," Colyn explains. "New connectivity technologies are changing the way people connect to the internet and providing incredibly fast speeds.
"Technologies like 5G-FWA are fast becoming the new fibre, and it is more cost effective to roll out, more flexible and, to a large extent, completely comparable to fibre for customer requirements for the foreseeable future."
However, the telecommunications space within Africa is not without its problems, as Colyn elaborates.
"South Africa, and for that matter Africa on the whole, continues to make huge strides in building and delivering broadband solutions to both consumers and businesses, yet still, enough is not being done to connect the 'unconnected' at the quality and price that consumers need for the dream of broadband penetration to truly drive GDP growth," he tells us.
"Given the past 14 months, the industry has also undergone a lot of change due to the pandemic and remote working has somewhat changed the data demand patterns. Many smaller businesses have closed down or migrated to homes, and this has left the business connectivity opportunities wanting."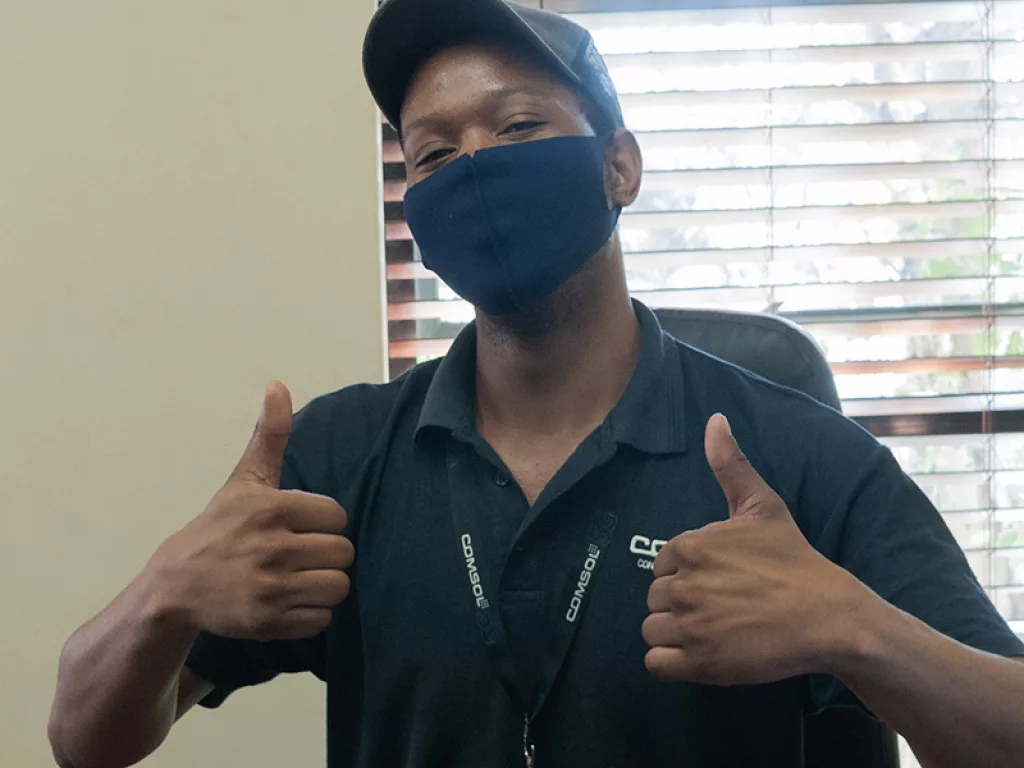 ANSWERING DEMAND
In order to provide professional and high-quality telecommunication services across South Africa and the broader continent, Comsol bases its solutions around five key pillars that maximise its provision in the market and industry and has been doing so for over two decades.
"Comsol has been around for 23 years and in all this time has focused on delivering quality services as a result of leveraging licensed spectrum backbones and last mile solutions to customers," Colyn informs us. "The emphasis on quality, responsiveness, and speed, as well as always having a plan to follow, has led to customers being loyal to Comsol.
"Our customers are our number one priority, and all our people are passionate about Comsol's customer experience."
EXEMPLIFYING SOLUTIONS
Comsol's five pillared solutions provision can be seen at each and every level of operation, and it encompasses its various company projects; examples of Comsol's ability to answer the demand of its customer base across South Africa and the wider continent.
Of the company projects there is TENET (Tertiary Education and Research Network) and SABEN (South African Broadband Education Networks).
"Comsol has over the past decade been delivering high-capacity last mile circuits to tertiary education, schools and colleges," Colyn elaborates. "The TENET and SABEN institutions have been spread out in very remote areas where connectivity is limited. Comsol has managed to plan and deliver these services due to its experienced RF planning and High-Site infrastructure business units – finding the routes and acquiring optimal high-sites to make the connectivity a reality."
PAN-INDUSTRY PROVISION
The Exxaro mines project is another primary example of Comsol's solutions. Comsol has been providing connectivity solutions to the mining industry for over two decades. A recent project included connecting four Exxaro mines to their central nerve centre, with on-campus connectivity solutions at each of the mines.
"These on-campus solutions included industrial WiFi in very harsh environments including deployments in their open pits making use of Solar trailer solutions as WiFi hotspots," Colyn continues.
"Comsol built a point-to-multipoint communication (PtMP) network on site that would track vehicles and push both voice and video back to the mines control centre (nerve centre). This network also enabled Exxaro employees to stream voice and videos to and from the mine, be it at the bottom of the pit or outside around conveyer belts and offices."
A key element to this Exxaro success was running specialised RF planning Audits, making use of industrial wireless technologies. On top of these projects, Comsol will be rolling out its commercial 5G-FWA trial at the end of 2021.
"We are extremely excited about this," Colyn states. "Comsol sees the future of connectivity being licensed wireless FWA services that will bring quality connectivity solutions to many South African's that only have access to expensive mobile services today."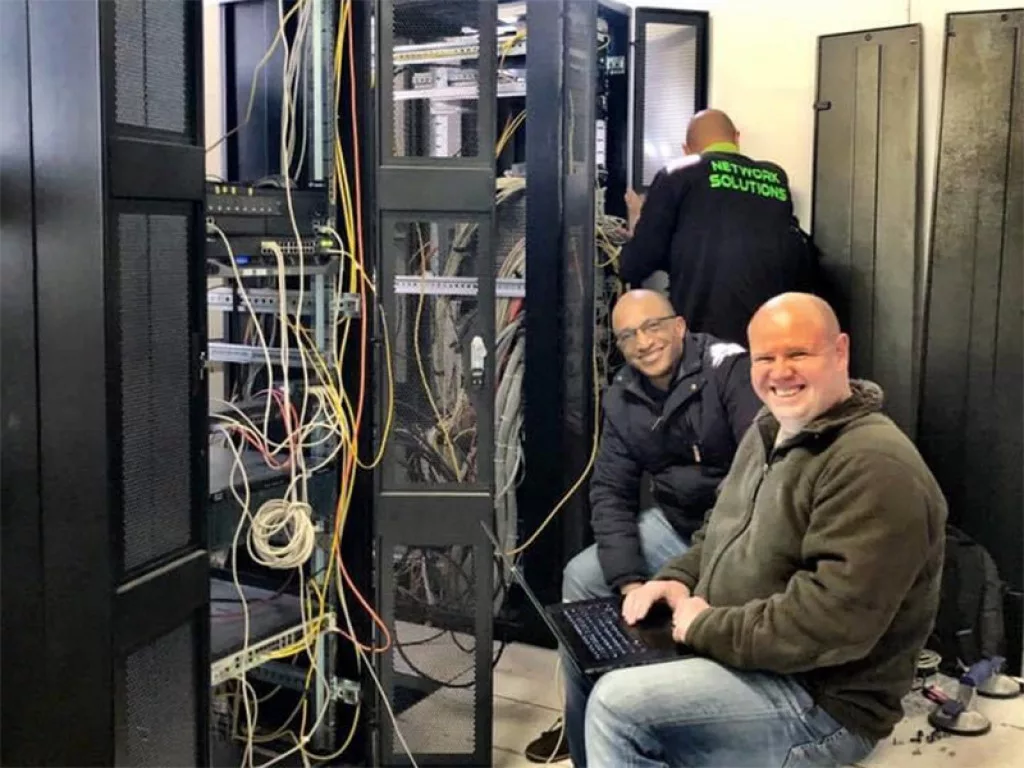 COLLABORATION
Behind its operation it is the many dedicated employees that move Comsol forward.
"Comsol has in excess of 150 staff- all passionate about licensed wireless solutions and customer centricity," Colyn tells us. "One of the biggest differentiators is our people going the extra mile for customers and always willing to make a plan to get services up and running as long as they meet our minimum requirement for quality-based solutions."
Comsol employees are encouraged to embrace learning and development in multiple areas outside the company, that is subsequently supported by Comsol to best promote personal growth.
"Teams meet regularly to ensure priorities are discussed and agreed to, resources and teams are aligned, and that pro-activity is key to managing customers' expectations," Colyn adds. "Comsol has a flat structure, open door policy and as a result of the team being a tight-knit outfit, issues are addressed immediately, staff are acknowledged, and efforts are praised at all levels as a result of contributions made."
THE PRESENT AND BEYOND
For Comsol, the year ahead and those following are promising. Part of this is the company's coming launch of its mmWave 5G-FWA commercial trial that its teams are continuously working on.
"It is a new state of the art technology targeting not only Comsol's existing market but moving into the consumer space is also a huge step in the right direction to deliver high quality, cost effective internet access to many more South Africans," he informs us.
VIEW THE COMSOL NETWORKS BROCHURE