General Manager, Sales & Marketing, Austin Pam Dalyop, tells us how Premier Feed Mills has maintained its position as the market leader in the animal feed industry and overcome political and socio-economic challenges.
OVERCOMING AGRICULTURAL ADVERSITY
Established in 1968, Topfeeds brands has been a mainstay of the Nigerian food and crop industry for over 50 years. Based in Nigeria's Delta region since its inception, Topfeeds brands has become an industry leader in the poultry feed sector, as well as the overall African feed landscape.
"TOPFEEDS is one of the oldest brands in the country and it has withstood all the shocks the Nigerian economy has gone through in previous decades, still spreading and sustaining the industry as the farmers' brand," introduces Austin Pam Dalyop.
Premier Feed Mills (PFM) acquired TOPFEEDS in 2008 and moved the production sites to Ibadan, Oyo state and Calabar, and Cross River State in subsequent years thereafter. More recently, another plant has been built in Kaduna State, whilst a Kano plant is a leased facility which brings to its fold four production facilities across Nigeria.
PFM's influence spans across the country, as the company operates a fully automated feed factory with 260,000 tonnes of animal feed produced per year in its Ibadan facility. Meanwhile, the Calabar division has an impressive annual capacity of 240,000 tonnes, with the ability to bag three different types of feeds simultaneously.
PFM is continuously on the front foot of expansion, evidenced by the introduction of Aqua Feed as the counterpart to its poultry business. Currently, the implementation of the Aqua Feed line extends across two regions, including Calabar and Ibadan. Thus, PFM stands as one of the largest producers of Aqua Feed in sub-Saharan Africa. The expansion into Aqua Feed has been a successful venture, due to its ability to lessen the dependency on imports and strengthen exports to the wider West African region.
Elsewhere, PFM also provides other large ruminant feeds that are specialised depending on the required animal. Consequently, the company can provide feed to a range of animals, including swine, cattle and horses, further diversifying its portfolio and growing its capabilities to produce all animal husbandry nutrition.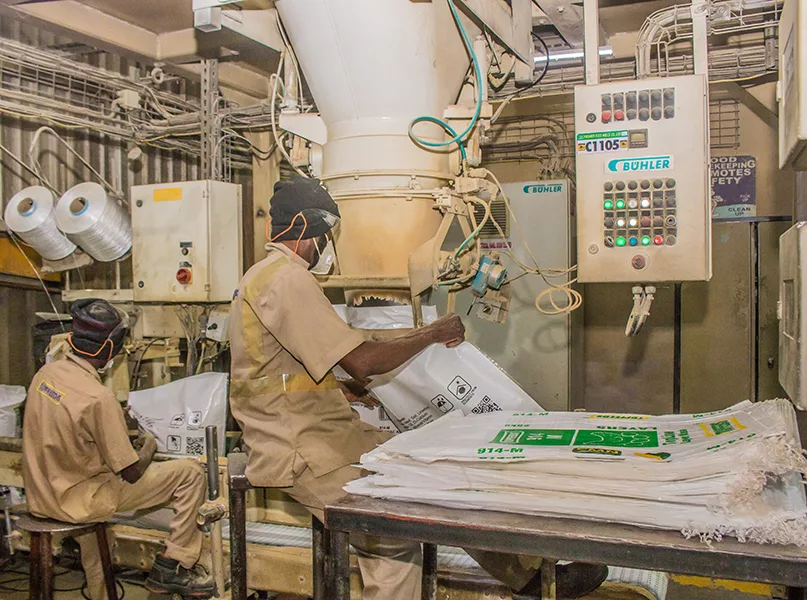 TOP OF THE RANGE
PFM is a subsidiary of Flour Mills of Nigeria (FMN Plc). As a leading manufacturer of animal feed in Africa, the company is a supportive pillar of FMN Plc's brand portfolio.
"Fmn is our parent company and it engages in, Wheat milling, oil milling, sugar refining, packaging (sacks) materials, fertilisers and the production of other complimentary products like Pasta, noodles etc. PFM sources some of its by-products like wheat bran and other materials, which are not considered as waste materials, but as food for production."
With this synergy, TOPFEEDS brands' quality is guaranteed to meet the farmers' needs of world-class feeds and achieve their desired daily nutritional requirement to produce good body weight and daily egg production. As such, the brand's mission is to be "best in class for cost per gain".
"Through the support of FMN Plc, Topfeeds brands have remained strong and one of our strengths is the use of local materials in the feed recipe, which results in the delivery of superior quality of service to farmers, whilst making the products available to them. Therefore, we make sure we deliver the right standard to our farmers," Dalyop adds.
To engage with its growers, PFM has a strategic programme known as Go-to-Market (GTM) activities, which allows the company to liaise with farmers. "This engagement takes us into the farms in the local areas to communicate and share with farmers the best ways to use TOPFEEDS brands, basic farm management practice, bio-security management and ways to make their business more profitable," explains Dalyop.
The company's Technology, Innovation & Quality department handles the technical aspect of the GTM programme, and has differentiated PFM from other brands in the market.
"When it comes to farmers' engagement, standard of quality ingredients, raw materials and more, TOPFEEDS brands pay more attention to detail."
In conjunction with ingredients, a guarantee of the correct storage facility is essential as evidenced in the use of our silos that have a highly technical procedure to ensure only the right products are received and processed in the mill.
Furthermore, the PFM workforce is also an integral cog in the machine. The company has a staff strength of approximately 1,300 direct employees, and 1,000 indirect, who are expertly trained and dedicated to their responsibilities.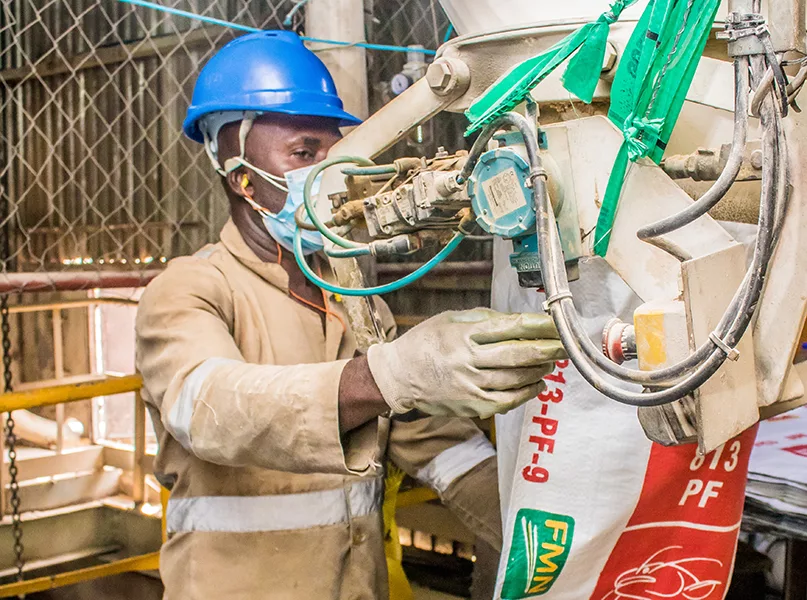 CHAMPIONING LOCAL GROWTH
In recent years, the Nigerian agricultural sector has seen great turbulence, including currency devaluations leading to a sharp rise in import costs. To tackle this issue, PFM strives to keep the business local and in-house, shown through its commitment to the welfare and prosperity of smallholder farmers.
PFM sources local maize to provide employment for over 200,000 Nigerian small farmers. The company also utilises an open gate procurement strategy during the harvest period, which means that it buys directly from local growers to encourage the expansion of farms. This important tool follows a trend in the African agricultural industry as the sector endeavours to bolster local growers and produce. Thus, by creating a symbiotic relationship with its farmers, PFM nurtures the well-being of the animal feed sector.
Excitingly, PFM has set up a five-year plan to consolidate its growth in Nigeria, as well as place a footprint in the West African market.
In the upcoming year, the company wishes to solidify its operations in Nigeria in terms of market expansion and increasing its volume. Following on from this, PFM hopes to broaden its horizons to neighbouring African nations.
"The criteria for expansion is based on the country's chicken consumption, the population of these countries and the disposable income available, as well as the ease of doing business," Dalyop highlights.
To measure these set requirements, PFM has been conducting surveys and studying reports to deduce which countries' markets it shall enter in the next few years.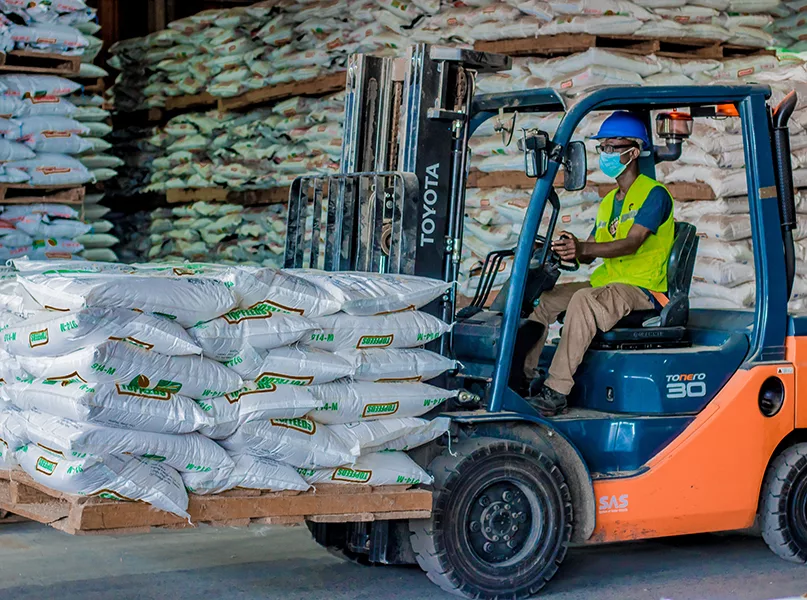 OVERCOMING ADVERSITY
Recently, PFM has overcome both local and international challenges. For example, the Russia-Ukraine conflict has permeated the Nigerian animal feed industry in more ways than expected.
"Of course, about 25 to 30 percent of our ingredients for the feed are imported items. And with the crisis in Ukraine, we've seen how the global supply chain has been disrupted and affected by the war. We've also seen how the cost of energy and the prices of commodities have gone up exponentially, which has a trickle-down or ripple effect on the company," observes Dalyop.
When this is compounded with recent droughts across some states in sub-Saharan Africa, challenges have arisen in currency devaluations and internal insecurity challenges that have impacted the rate of crop growth. In regard to the latter, farmers are not able to reach their farmlands for cultivation due to the herdsmen-farmers crisis, bandits and kidnappers, amongst other challenges.
"All these factors have been affecting business because if the farmers don't grow crops, there's no way we can grow feed using local grains materials. This means people don't have enough disposable income to stimulate consumption of eggs and chicken," Dalyop tells us.
Finally, the country's political landscape has influenced the business trend, but it has had a surprisingly positive impact. "We just had an election in Nigeria and the hope of the people is they want a change to happen very fast in the following areas: securing the country by restoration of peace across all divides, providing steady electricity, as well as upgrading and reviewing agricultural policies to guarantee food security for the nation by eating what we produce, and exporting the surplus," recalls Dalyop.
If the three changes listed above are achieved, it will stabilise the country, create youth employment, improve the Naira exchange rate, and increase the export of finished goods. Thereafter, massive development will arise.
"We trust things will get better in our nation and that this will be enough to grow business and increase productivity," Dalyop concludes.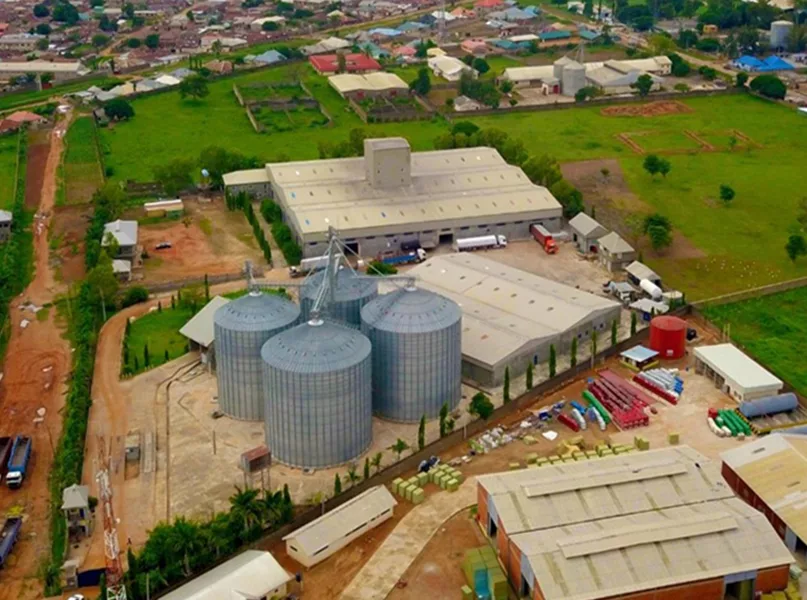 PREMIER FEED MILLS PARTNER