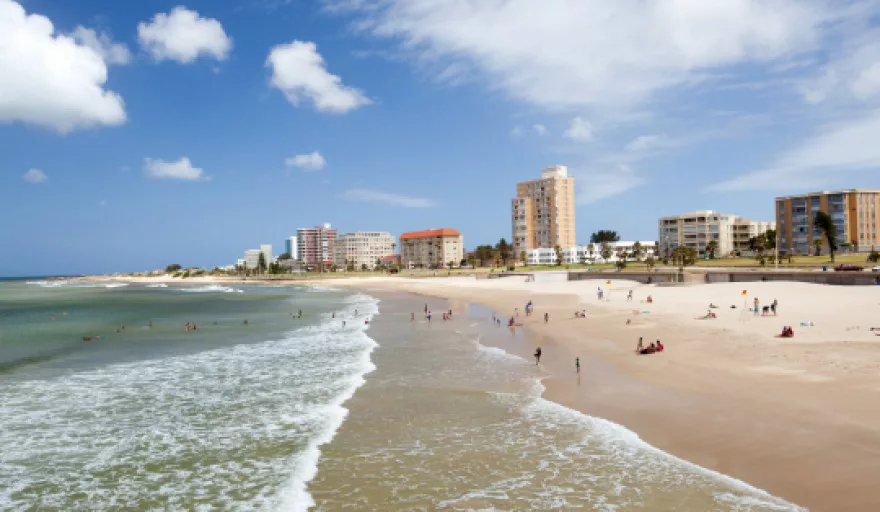 South Africa has an embarrassment of riches to showcase to the millions of tourists who grace their shores each year, with few as impressive and dynamic as the coastal region of Nelson Mandela Bay.
Named after the country's most significant and renowned leaders, and containing one of the country's largest cities in the form of Port Elizabeth, the Eastern Cape-located area is epitomised by the so-called Friendly City of PE; selling itself as an accommodating and sun-kissed stretch of urban-meets-beach that brings holiday makers in, in their droves, and gives business travellers the perfect relaxing retreat away from the boardroom.
Also comprising areas including Despatch and Uitenhage, it is the 16 kilometre stretch of coastline that not only acts as one of the country's main seaports along Algoa Bay, but that sets the scene for the region as a whole. Yet, away from the stunning beaches and warm seas there is plenty to see inland too.
Copious museums documenting Port Elizabeth – and indeed South Africa's – chequered history are rare walls amid a plethora of natural beauty that acts as the primary tourist attractions, and it is this walk on the wild side that the business traveller should look to take no matter how long their stay in Port Elizabeth.
Facts and figures
Country: South Africa
Province: Eastern Cape
Languages: Xhosa, Afrikaans, English
Area: 1,959 square kilometres
Population (2011): 1.1 million
Currency: Rand
Time zone: UTC+2
Dialling code: +27
Internet TLD: .za
The business end
Given its attractions and pulling factors as a location, it probably comes as no surprise that Nelson Mandela Bay's primary economic driver has been through tourism ever since the municipality's inception in 2001.
The combination of safe and hospitable swimming beaches like King's Beach and Hobie Beach, combined with numerous local historic landmarks like the Donkin Heritage Trail – which includes links to the Campanile bell tower, the city hall, the Donkin Reserve Park and Monument, and the old stone Fort Frederick – only scratch the surface of sights to behold when visiting the area.
Veering towards the central business district of Port Elizabeth, however, and there is still an underlying current of economic acumen to be found; dominated in the skyline by the towering Eastern Cape post office headquarters.
From an industrial standpoint, historically, the majority of all regional trade came through Port Elizabeth, and while its coastal positioning still lends itself to import-export opportunities – especially in the ore-loading and distributing domain – the city is now better known for being the home of South Africa's motor vehicle trade, with manufacturing the single largest contributor to the local economy.
Housing the likes of General Motors, Ford and Continental, its natural bridge to wider international conglomerates leaves no shortage of opportunity for the world's executive community to explore Nelson Mandela Bay at some point in their careers; and once they arrive, it's probable that cars and ore will be quite low down on their priority list.
From an accommodation standpoint, the Bay offers a myriad of options in regards to price, style and location; with five star hotels in abundance or wildlife-situated resorts for those in search of a break from urban life.
Out and about
With tourism as the city's stable money generator, the lines inevitably overlap between what can be classed as Nelson Mandela Bay business, and tourist hotspots.
The walking trail, Route 67, St George's Park, The Nelson Mandela Metropolitan Art Museum, and whale watching opportunities all attract visitors in their thousands season after season, and you don't have to travel too far outside of Port Elizabeth to find more natural splendour such as the Zuurberg mountain range and national park either.
In regards to accommodation, again the best advice would be to shoot for as spectacular a view as possible, with a whole host of hotels, lodges and guest houses lining the waterfront.
From there, the trek to your first port of call should be limited as you explore Algoa Bay in all its glory; whether it's fishing, surfing, scuba diving, snorkelling or sailing you're into.
"[Nelson Mandela Bay] is an outdoor-lover's paradise, so don't miss out on boat cruises, diving opportunities, a visit to the Seaview Predator Park, an excursion to Bayworld (which incorporates an oceanarium, museum and snake park), or a trip to the lush forests of the Kragga Kamma Game Park," southgafrica.net says. "Topping the fun stakes is the Boardwalk Casino and Entertainment Complex, where shops, eateries, an amphitheatre and casino keep patrons entertained for hours."
If history and education is more appealing then the Red Location Museum – 'that portrays both the horrors of institutionalised racism and the heroic efforts of the apartheid movement' – is a humbling reminder of a history that all of South Africa remembers so vividly. The Nelson Mandela Metropolitan Art Museum and a large metal cut-out of the great leader further compounds the hark back to former decades that Port Elizabeth rightly acknowledges.
Sport is another cultural facet deeply ingrained into the fabric of the city; its multi-tiered Nelson Mandela Bay Stadium a flagship venue and legacy from the 2010 FIFA World Cup.
Above all though, arguably the most popular of all attractions are situated further out into Nelson Mandela Bay where the chance to see the 'Big Seven' of the animal kingdom presents itself. Lions, rhinos, buffalo, leopards and elephants are joined by the great white shark and the southern right whale in the bay waters just off Addo Elephant National Park to offer an opportunity almost unparalleled elsewhere in the world.
Outlook recommends
"A Whole Lotta Summer" – Nelson Mandela Bay Tourism
Hospitality
– Legacy prides itself on offering Africa's most unique and unforgettable four and five-star hotels, resorts and bush lodges; in-keeping with the equally natural and beautiful region of Nelson Mandela Bay.
Nature
Van Staden's Wildflower Reserve
The Cape Recife Nature Reserve
Museums
The Nelson Mandela Metropolitan Art Museum
Entertainment & retail
Boardwalk Casino & Entertainment World
Food & Drink
Transport Links
A comprehensive transport network helps to facilitate such comfortable gallivanting from attraction to attraction by either road or rail; although self-driving is advised to enjoy the optimum experience.
Before even contemplating the internal logistics though, the region already houses a comprehensive hub in terms of arriving in Nelson Mandela Bay; its airport, harbour and roads all geared up to link the Eastern Cape not only to the rest of South Africa, but to the rest of the continent and beyond.
As such, Port Elizabeth Airport connects both domestically and internationally to a host of destinations, and once you're settled in the city or surrounding areas, any number of options are available in order to begin exploring the region.
"Taxis, hotel transport and plenty of car hire options are available from the airport while shuttle services offer a convenient mode of transport in and around the city, as well as in the surrounding areas," explains Nelson Mandela Bay Tourism. "Taxis offer reliable, convenient, courteous and quick service. Municipal buses, operating as a service to especially people living within the Nelson Mandela Bay, travel to all parts of the city and residential areas.
"Various affordable car hire companies are available for visitors who prefer to explore the city by themselves. You can choose from small economy class cars to convertibles and 4x4s. Trailers and caravans are also available for hire at different outlets."
Making the most of the excellent road network may be the way to go in order to reach every corner of the region, but one leftfield mode of travel could be by water if you have a spare day or so to indulge.
By "cruising" you will be able to get a first-hand sense of what Nelson Mandela Bay is really all about: i.e. the Bay!
"This is the ultimate eco-tourism experience and could be the highlight of your stay," Nelson Mandela Bay Tourism continues. "This is the ideal way to take in the scenic beauty of its ocean life, meet our whales, dolphins and seals eye to eye.
"There are many different options to choose from, whether you prefer a chartered boat or a guided excursion or the wind to take you out to sea, we'll provide what you need."
Landmark attractions
Shamwari Game Reserve
The 75 kilometre trip out of Port Elizabeth is well worth it to see the oft-lauded World's Leading Safari and Game Reserve and Conservation Company.
With a core focus on the management, development and rehabilitation of a natural habitat and ecosystem, Shamwari Game Reserve is the must-see feature of the region and stands as an example to the rest of the planet in showcasing how to balance public input and attraction with natural sustainability.
Kragga Kamma Game Park
Continuing along the natural theme, Kragga Gamma Game Park equally plays host to the key attractions from the animal kingdom; white rhino, buffalo, cheetah, giraffe, zebra and many more out in plain sight for those who visit the safari.
"Take a drive in your own vehicle through the park on the well-maintained roads (no need for 4×4) and enjoy viewing the game in any weather conditions from the comfort of your car," the site's website states. "For those [who enjoy] really close encounters, choose the two-hour guided tour in an open Landrover with a professional guide providing you with interesting information on the animals and the historical background to the area."
Addo Elephant National Park
Completing the triad of natural exploration, Addo Elephant National Park may not be as hotly sought after as the previous two but is actually the third largest national park in South Africa at 1,640 square kilometres.
Attracting more than 120,000 visitors each year, international tourists make up more than a half of these, so you certainly won't be alone when heading out there, and can even elongate your stay by checking in to one of their various accommodations.