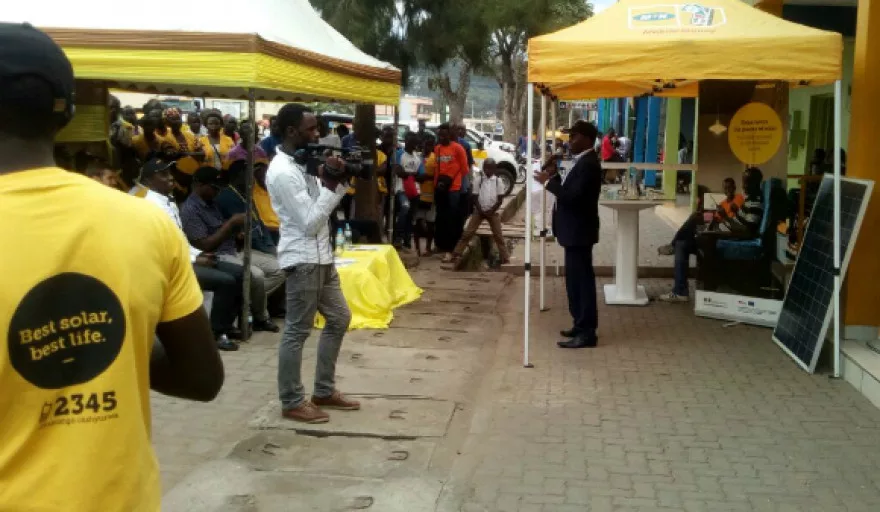 The smart phone model Tecno W2 is offered along with the Mobisol solar home system and affordable payment scheme. The high-performance smart phone is equipped with an Android operating system, a convenient dual SIM for usage of a second SIM card, large touch screen display, 8GB built-in storage space, a high-resolution camera with flash, Wifi and Bluetooth connectivity and long battery life. MTN is offering a special data bundle for customers with this offer, including special free data bundles whilst customers are paying off the phone. The promotion is made affordable by a convenient payment plan through MTN Mobile Money for as little as RWF 66 per day. This exciting offer will initially be found in the MTN Musanze Service Centre but will be rolled out to all Service Centres in the course of the year. It will however be available in all Mobisol Shops throughout Rwanda and is available to Mobisol customers.
In a joint statement between MTN Rwanda and Mobisol Rwanda in Kigali, Mr Ben Okello, Mobisol Rwanda Sales and Marketing Manager said: "Today we are proud to mark yet another milestone in the solar and telecommunications industry. In recent years, Mobisol and MTN have greatly contributed to Rwanda's development goals by complementing the Government's efforts in electrifying Rwanda through our solar home systems. By launching the smart phone on a rent-to-own basis, Mobisol Rwanda, MTN Rwanda and Tecno are now making connectivity and mobile communication accessible to all Rwandans."
Mr Okello went on to point out that one of the Company's objectives is to empower children who study in rural areas where there is no electricity. Using solar, they benefit from clean and efficient light at night and can access information via radio, TV and connect to the Internet via mobile phones – thus increasing their educational opportunities.
"At the same time, the reliable electricity through our high quality German engineered solar home systems we provide offer an opportunity for people to utilise it for various income generating activities. Many customers pay off their solar systems while making money by using solar hair-cutters in salons or run mobile phone charging stations in rural areas with no connection to the national grid. We also provide free installation, a comprehensive after sales service including long warranties and maintenance service for a minimum of three years. People may live in rural areas but they too want to enjoy the merits of real electrification. Moreover, they want to understand what is going on in the world and they too are aiming big. They want a modern lifestyle. We are here for that." Mr Okello said.
Yvonne Manzi Makolo, MTN's Chief Marketing Officer, emphasised: "MTN's overriding mission is to be a vehicle for Rwanda's economic growth and development, helping to promote Rwanda's strong development potential from the provision of world-class telecommunications products and services, through to innovative and sustainable corporate social investment initiatives."

Mrs Makolo of MTN added: "We are proud to take yet another step together with leading solar home system provider Mobisol Rwanda, by offering a smart phone through an innovative instalment payment scheme, which will make our services more available to our customers, whilst developing the economy further in Rwanda. Our joint customers can acquire and own their personal solar power source and complementary electrical household and entertainment appliances – and from today on they can also pay in small instalments in order to own a high-quality mobile phone. This truly uplifts communities' quality of life: Customers do not only enjoy household electrification, but with this smart phone offer also enjoy comprehensive mobile communication services while being able to charge up their phones when and as needed through their Mobisol solar home systems."