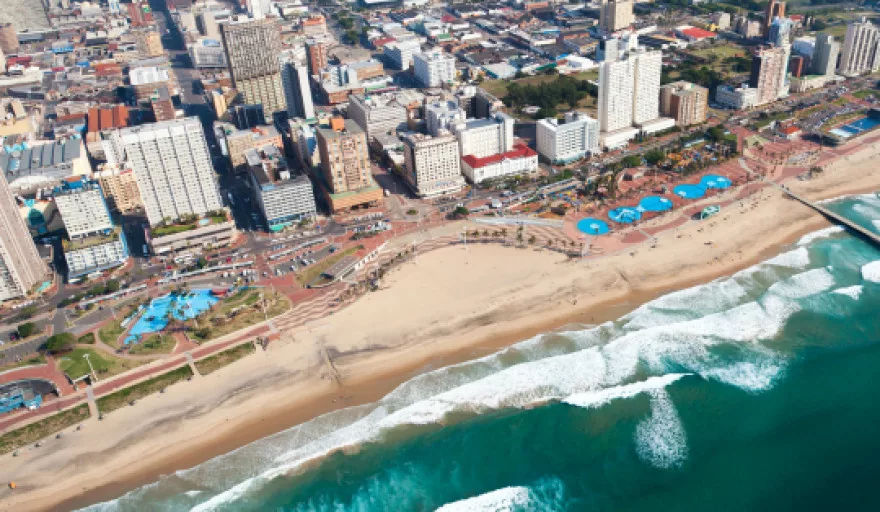 Officially recognised as one of the New 7 Wonder Cities in 2015, Durban's modern contrast to much of South Africa's traditional and historical beauty has made it a leading destination for tourists and business delegates alike.
As part of the eThekwini Metropolitan Municipality – a name aptly deriving from the itheku word for lagoon – the city has been able to leverage its natural location on the coast to become a harbour port of business renown, a seafront hotspot up there with the best in the world, and a central business district comfortably able to leverage off the two former factors.
Its subtropical climate inevitably adds to its pull from a tourism perspective, but as one of the largest metropolitan land areas in the country, and with a bustling port on-site, its business acumen is every bit as prominent; making it a genuine city for all seasons.
The busiest container port in Africa, Durban's appeal is all-encompassing and, upon arrival, a setting of rolling hills, stunning coastline and welcoming people ensures an enjoyable experience for all business travellers fortunate enough to visit the city.
As durbanexperience.co.za elaborates, "Durban is a natural paradise known for its gorgeous coastline of sun-kissed beaches and subtropical climate, situated on the eastern seaboard of Africa".
It continues: "The City is built around one of the busiest ports in Africa and our people are our pride. The city focuses on providing visitors with a unique set of experiences that go beyond the beach and into the realm of Durban's diverse culture, urban lifestyle and scenic diversity.
"Whether you here as a business delegate or a leisure traveller there is a warm African flavour that will capture your heart forever."
Facts and figures
Country: South Africa
Municipality: eThekwini
Province: KwaZulu-Natal
Languages: English, Zulu
Area: 2,292 square kilometres
Population (2011): 3.4 million
Currency: Rand
Climate: Humid subtropical
Highest recorded temperature:
Dialling code: +27
Internet TLD: .za
Website: www.durban.gov.za
The business end
Don't let the natural aesthetic and coastal environment fool you though; Durban is every bit an industrial success as Johannesburg and Cape Town, epitomised by its status as the second most important manufacturing hub in the country.
Boasting a large and diversified economy across this domain, transportation, finance and Governmental sectors, Durban subsequently has the highest number of millionaires; a number which has especially risen since the turn of the century.
As such, Durban is the main economic driver in its province of KwaZulu-Natal, contributing more than half of its output, employment and income. And once again addressing areas of modernity, this enhanced economic status has been plugged straight back into the community, developing large swathes of the region to make it – arguably – the most refined and contemporary city on the continent.
Recent infrastructural improvements have included the complete revitalisation of the Durban Point Waterfront, a clean-up project of the business district and, of course, the construction of the Moses Mabidha Stadium for the 2010 FIFA World Cup; an event which has incidentally taken the Municipality to even more impressive heights in the past decade.
Now rated as a Gamma-level global city, its quality and diversity of accommodation has enhanced simultaneously, keeping in mind both ends of the spectrum; from the swells of high-earning executives dwelling and visiting the city, to the surfers and domestic tourists looking for a quick – albeit impressive – holiday.
Out and About
Dissecting the core of the city from a 'doing' and 'seeing' perspective is The Golden mile, initially developed in the 1970s to boost its tourist industry before being redeveloped in 2009 in time for the World Cup.
As well as hosting the Moses Mabhida Stadium, the hub also hosts the newly resurfaced Ushaka Marine World, as well as some of Africa's most popular beaches.
Getting around The Golden Mile is all part of the experience too, with segways or bike hires available from the seafront and the perfect mode of transport to get around quickly and easily.
The Markets of Warwick, the International Convention Centre and uMhlanga Beach serve as three more iconic landmarks to visit while in Durban, but once you explore the more intricate nuances of the city, you also unearth an element of indigenousness and history that are more synonymous with peer cities such as Pretoria and Johannesburg.
As an ethnically diverse area combining Zulu, British and Indian influences, the cuisine, culture, religion and general hospitability that greets you is evident at every turn.
Areas including Florida Road and Swapo Road present a wide variety of entertainment and dining options, while Suncoast and Sibaya provide a setting for any gamblers in search of a beautifully located and fully functioning casino.
For any avid shoppers, the Gateway Theatre of Shopping, The Pavilion Shopping Centre and La Lucia Mall offer state-of-the-art precincts. And if there is any time to spare between meetings and relaxing, then a visit to any one of Durban's sporting arenas is a must.
The aforementioned Moses Mabhida Stadium stands head and shoulders above them all incorporating a skycar ride, adventure walk and world record bungee swing; but Kingsmead Cricket Ground, Greyville Racecourse and Kings Park Rugby Stadium form similarly poignant landmarks for sport lovers.
Outlook recommends
"The City of Durban is an elegant, mature and ambitious city. It is a trendsetter in offering great lifestyle, speckled with adventure activities, blessed with natural beauty and is an astonishingly liveable city" – durbanexperience.co.za
Accommodation
Goble Palms Guest Lodge and Urban Retreat
Leisure
Nature
Food & Drink
Casinos
Suncoast Casino and Entertainment World
Sibaya Casino and Entertainment World
Retail
Transport Links
As a leading domestic destination and equally significant international hub, it comes as no surprise that Durban's transport network is up there with the best that the country – and indeed the continent – has to offer.
Beginning on the shoreline, its history as the busiest port in South Africa makes it a very popular cruise destination today; bridging elements of business and leisure.
Inevitably though, most business delegates will arrive not by boat, but by plane, and the King Shaka International Airport is equally equipped to welcome the deluge of arrivals each year from a growing number of overseas destinations.
Its location in the Golden Triangle between Johannesburg and Cape Town makes it an equally fruitful entry point, and when moving around the city, the network is equally extensive.
On the tracks, its status as the first operating steam railway location is adhered to in modern day terms by a host of both passenger and cargo rail lines; complemented by the Metrorail service for internal travel, and a proposed high-speed rail link between Durban and Johannesburg in the offing for the future.
If the open roads are more your preference, then national highways pointing to the north, south and west of the city ensure easy access and departure; while shorter inner-city journeys offer a couple of more quirky options.
Metered and minibus taxis need to be called and ordered if you're looking for a steady, trusted, quick mode of transport, but if you have a little more time on your hands, then the city's iconic Zulu rickshaws are a must-try in calmly navigating the fascinating streets and promenades of Durban.
Landmark attractions
The Golden Mile
"Durban's six kilometre long sandy beach… is by far the greatest attraction of the city. Swimming is good all year round due to the warm, subtropical climate. And the beaches are well monitored and protected by shark nets.

"The Golden Mile is also a huge pleasure resort with dozens of swimming and splash pools, fountains and waterslides, curio markets and merry-go-rounds, uShaka Marine World, exotic restaurants, nightclubs and many hotels und apartment complexes directly at the beach." – southafrica-travel.net
The Victoria Embankment
"The Victoria Embankment, also known as Durban Waterfront and the Esplanade, is Durban's answer to the V&A Waterfront in Cape Town. It houses the historical Natal Maritime Museum, the BAT Centre, and offers fine dining and drinking at nearby restaurants which each have handsome harbour views.
"Keep an eye out when driving along Victoria Embankment for the ornate Vasco da Gama Clock, which was bequeathed to the Port of Natal in 1897 by the Portuguese government." – travelground.com
uMhlanga Beach
"The uMhlanga Coast is a magnificent stretch of the South African shoreline. It shows off the splendour and wonder of this country in a tranquil display that remains extremely powerful. This is part of KwaZulu-Natal, and is very close to the city centre of Durban, which is the province's main city and one of South Africa's major metropolises. However, the Umhlanga Coast whisks you away from the bustle of city living and to the peaceful prettiness of the Indian Ocean as it lazily dances onto the sand." – sa-venues.com
Moses Mabhida Stadium
"Durban's new icon, Moses Mabhida Stadium, offers a variety of experiences and attractions for fun-seeking families, couples looking for a bit of romance, or corporate team-building. Take a trip on the SkyCar or make the 550-step adventure walk to the top of the arch and enjoy panoramic views of the Indian Ocean and Durban. Or take a look inside the stadium with one of our all-access (90 minute) or general (45 minute) tours. For the adrenaline junkies, try plunging off the 106 metre arch on the Big Swing." – durbanexperience.co.za