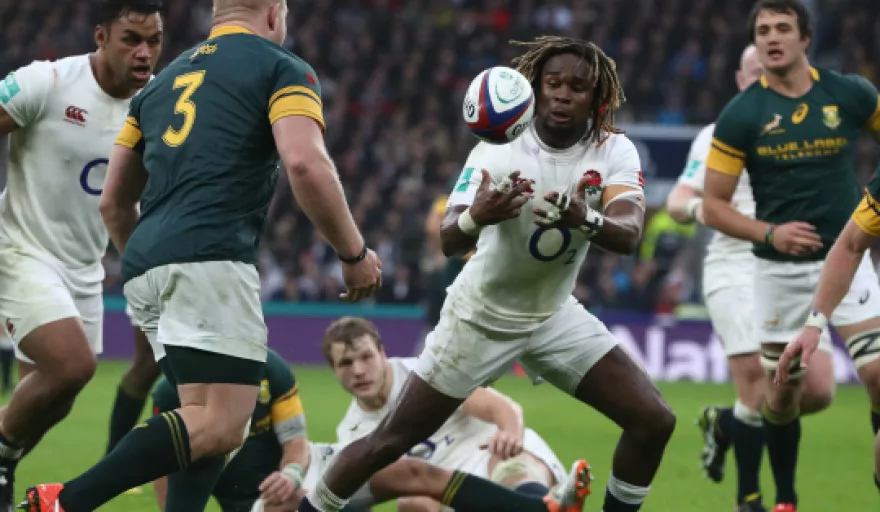 The power of 10: a number which represented the years of South African dominance over its northern hemisphere rivals; a number of consecutive wins that the boys in white were striving for under the stewardship of Aussie coach, Eddie Jones; and the minute in this November's clash at Twickenham, London in which the tide of a decade was turned.
Johnny May received the ball wide on the left touchline after a fluid passage of set piece-driven play before putting his foot down to calmly dispatch in the corner. In the context of any match – especially when already 6-0 down – such a try would be thrilling and relieving, but for a team very much on the rise since a disastrous home World Cup in 2015, this very much felt like the initial stages of a modern demon being put to rest for England.
The 10 years – and 10 minutes – that preceded May's lunge over the line have been steeped in lean, mean and green dominance on both sides of the equator. But if South Africa's plans to intimidate, outmuscle and bully England out of sight once again in 2016 were the reason for any optimism on their side; a deficit in cunningness, attacking flair and energy were the slightly more realistic outcomes.
Of course, in sport, there are no certainties, but given the gulfs in momentum being carried into the match by each side, an England win was where you'd find the smart money.
Imperious kicking from England's Owen Farrell, less imperious striking from Pat Lambie, a knockout blow to the head for South African talisman, Eben Etzebeth from the marauding Billy Vunipola, and a messy fortuitous try from Courtney Lawes on the cusp of half time ended a frantic opening exchange. But this was merely a creaking of the floodgates compared to the aggressive opening of them that occurred in the second half.
Crumbs of comfort for South Africa included consolation scores from Warren Whiteley and Willie Le Roux – actually more important than they seemed considering the recent unfamiliarity between South Africa's attacking unit and the try line – but they were mere blots in a copybook which largely documented English fluidity, efficiency and fearlessness for much of the 40 minute spell.
Scrum half, Ben Youngs added potency, subtlety and imagination behind the brawn and power of England's back row, setting up George Ford first, then – almost identically – Owen Farrell for simple finishes under the posts.
The latter's trusty boot put extra gloss on the end result with meticulous precision, giving England their largest victory over the old foe since 2004; 37-21.
Not only was this England's joint biggest margin of victory in 12 years, but it was only their third victory at all over that duration, the other two arriving consecutively at the home of English rugby in 2004 and 2006.
Since then, 11 South African celebrations and one 2012 draw at Nelson Mandela Stadium in Port Elizabeth have made the back pages. And for the most part, it's not been a fortunate rub of the green; it's been a resounding crushing delivered from the green giant.
Springbok wins to the tune of 58-10, 55-22, 36-0 and 42-6 have epitomised the era across a backdrop of London, Bloemfontein, Pretoria, Durban, Johannesburg and even Paris; the latter inevitably being the most significant moment of this 10-year demolition as South Africa beat England twice en route to the 2007 World Cup, including a 15-6 win in the final.
To surmise, November's turnaround isn't simply a return to form or the bucking of a recent trend, but it may well be the latest ignition of a period of English success. And you only have to look at the two sides' overall reliance on momentum to come to such a conclusion.
Prior to South Africa's stranglehold on the fixture from 2006 onwards, England had enjoyed a six-year, seven match winning streak of their own; preceded just as emphatically by a period of Springbok supremacy in the 1990s which saw them win six out of seven clashes between 1994 and 2000.
In fact, you have to go back to pre-apartheid South Africa to find any lack of structure in the fixture and its results.
So while the commonsensical, the 'law of averages' folk, and even the most realistic of sports fans cast this latest outcome to the history books as a one-off – albeit entertaining – clash of two giants of world rugby, the more attentive of sporting anoraks wouldn't be at all surprised to see another England victory when the two sides next unite.
And perhaps again after that…