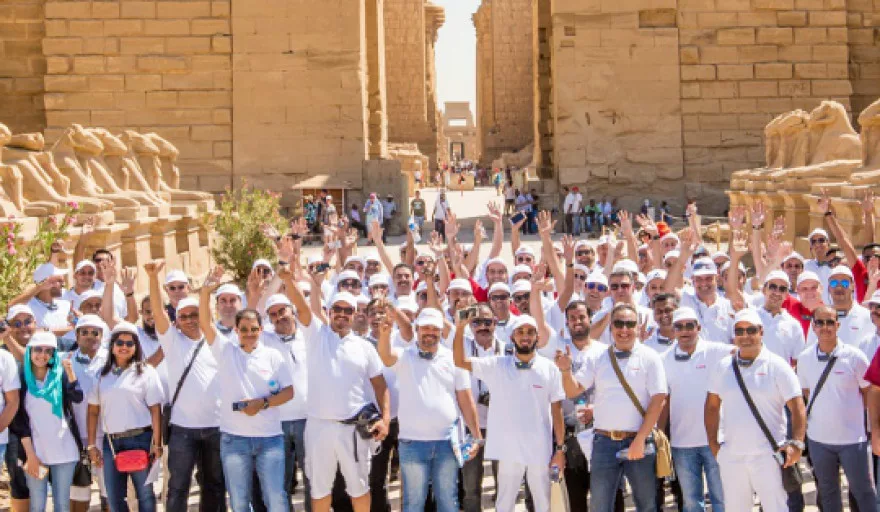 Canon Middle East and the newly formed Canon Central and North Africa (CCNA) commemorated 10 years of introducing the imagePRESS printers to the region by awarding their customers from Middle East, Central and North Africa for their contribution to the brand.
eXtramile events organised the grand gala event on behalf of Canon, spanning over three-days in Luxor, Egypt, flying in the customers from Middle East and Africa region to celebrate the decade of success. The gala event was attended by H.E. Dr. Mohamed Yehia Rashed, Minister of Tourism, Ministry of Tourism, Egypt; Mohamed Sayed Badr, Governor of Luxor and Mamdouh Philippe, Head of the Tourism Marketing Committee for Luxor and Egypt.
The event saw the customers take a photography tour of Luxor covering scenic locations of the Luxor, Karnak and Habu temples, Luxor Al Souk, river Nile. With an aim to make the trip more fulfilling, Canon imparted photography tips and tricks during the tour by tying up with Gulf Photo Plus, a leading photography institute in the region. They delivered an interesting seminar for the attendees explaining to them the intricacies of photography and assisted them in taking great pictures.
The event finally culminated into a grand awards ceremony where customers were acknowledged for their work in their respective countries and handed out awards in various categories such as best application, best workflow, best long service, best publishing among others. Canon also announced that the partner with the highest number of awards would be honoured as 'Decade Partner for imagePRESS'.
"Canon's persistent leadership and success has been built on many factors, including the product range, the services Canon offers, but most importantly, the contribution of our customers who have been instrumental to the success of Canon in each market. We wanted to celebrate these efforts by bringing them closer to the brand and thought the best way would be by putting the technology in their hands and letting them explore their creative side," said Ayman Aly, Professional Products Marketing Manager, Canon Middle East. He added that Canon always strives to make such celebrations unique and will continue to have more of such events to celebrate their customer relationships.
"Egypt is known throughout its history as a destination for tourists and travellers; it has a perfect mix of a rich heritage coupled with religious and cultural monuments as well as scenic, pristine beaches. We are happy to extend this to our visitors," said Mohamed Yehia Rashed, Minister of Tourism, Ministry of Tourism, Egypt.
"With tomb and treasures of Golden Pharaoh Tutankhamun, Luxor is not only historically significant to Egypt but also worldwide. We are happy to associate with a brand like Canon to promote the beauty of Luxor and look forward to strengthening this relationship," said Mohamed Sayed Badr, Governor of Luxor.