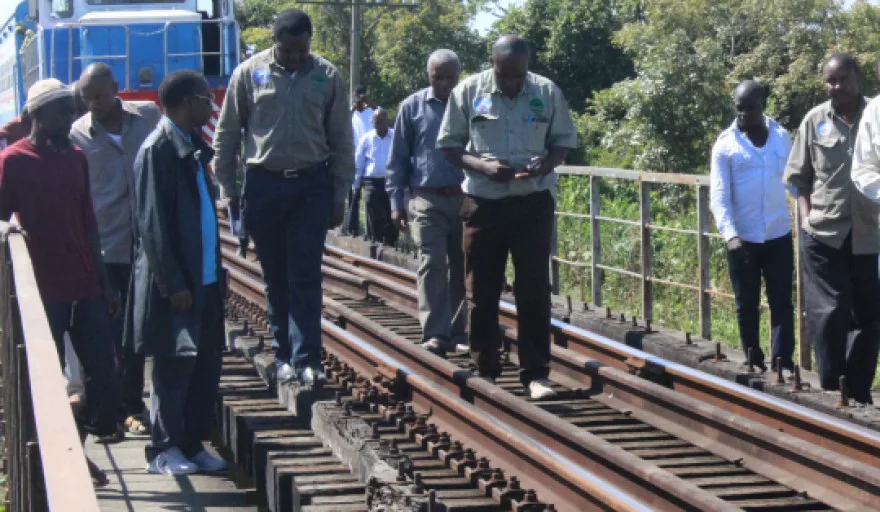 In order to get back to peak performance, the Tanzania-Zambia Railway Authority (TAZARA) needs around US$250 million of investments in the short-term and approximately US$1.2 billion in the long-term, according to Managing Director, Eng. Bruno Ching'andu.
Speaking during a presentation to the 7th East and Central Africa Roads and Rail Summit 2016 in Dar es Salaam on 27 September, 2016, Eng. Ching'andu said that with that level of investment in the track, equipment and rolling stock, the target was a breakeven freight volume of 600,000 tonnes per annum in the short-run and two million tonnes in the next five years.
The Managing Director called on private investors to partner with TAZARA in order to achieve the desired investments, assuring the gathering that the two shareholding governments were in the process of revising the TAZARA Act in order to make the Company more commercially viable and attractive to private players.
"The private sector can take advantage of the Public-Private Partnership (PPP) models to partner with us in the running of the Dar es Salaam Commuter Train, whose demand is massive and cannot be satisfied at the moment.
"We are also open to PPPs in the installation of the signalling and telecommunication systems, which have been vandalised over the years and are currently non-existent," he said.
The Managing Director also highlighted PPP investment opportunities in TAZARA's quarries and workshops, which he pointed out as having huge potential but required reinvestment in equipment.
Eng. Ching'andu informed the audience about a number of measures that TAZARA had taken in the past six months with a view to reclaiming the market share of the available cargo destined to or originating from Malawi, Zambia and the Democratic Republic of Congol; cargo that was directly captive to TAZARA.
Amongst the measures, Eng. Ching'andu stated that TAZARA had transformed the application of freight rates by adopting a more flexible tariff regime that was responsive to macro-economic conditions and market trends.
He highlighted that the firm had also enhanced rebranding efforts, positioned itself closer to the customers and forging strategic alliances with neighbouring railway operators, the Port of Dar es Salaam, shippers and other logistics firms.
The Managing Director pointed out that TAZARA's most desired goal was to make meaningful contributions to the development of the economies of Tanzania and Zambia.
"With the current level of interactions and closer dealings with the various stakeholders, we are optimistic that TAZARA's huge potential to contribute to the economies of Tanzania and Zambia will be realised soon," he said.
He said that not only was he aware that TAZARA required substantive investment in many areas in order to achieve the goals that have been set out, but he was also confident that there were enough interventions in the pipeline to address the challenges that would enable TAZARA to perform at its peak.