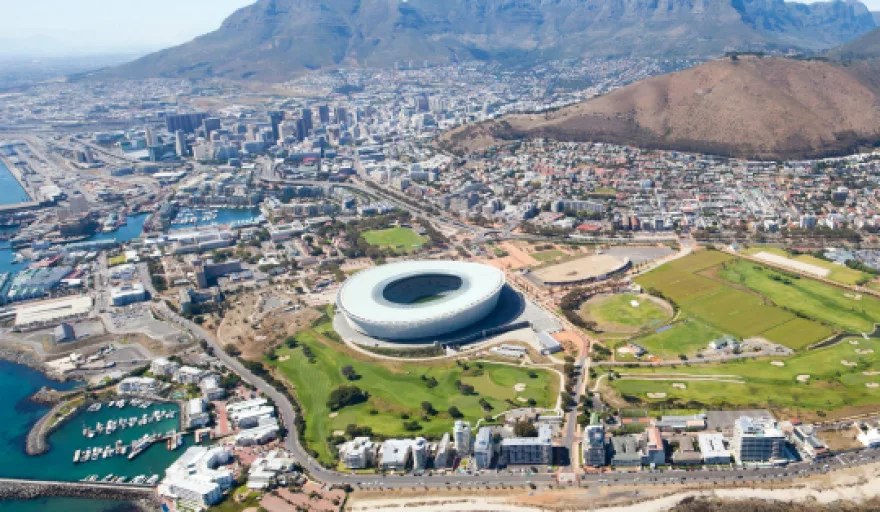 When it comes to the leading business hubs of Africa, there are a few immediate names that spring to the fore, and – shining like a beacon above the continent's traditional gateway – Cape Town perhaps stands head and shoulders above them all.
The sights of Table Mountain down to the stunning coastline of Clifton Beach are renowned on a global scale, and far from the norm of neighbouring cities and urban hubs around Africa, Cape Town's reputation as a desirable tourist destination, migration opportunity or business travel centre is firmly set in stone already.
Very little marketing or promotional work needs to be done to drill home the appeal of South Africa's second most populous urban area and provincial capital. And Western Cape's finest asset somewhat inevitably carries a similar cachet when it comes to the business world and its appeal to the executive fraternity.
As the seat of the National Parliament and the legislative capital of the country, the city's ability to marry business with pleasure is undoubted; only with the added bonus of being wedded on some of the most stunning backdrops in the world.
By proxy, its hugely diverse and multicultural make-up ensures its status as a key hub for business travel from all continents, and despite the wider country no longer being the sole point of entry for industry in Africa, South Africa's tradition and history as the continental front door has already done the hard work in making Cape Town's infrastructure one of the most varied, developed and lucrative for miles around.
Facts and figures
Country: South Africa
Province: Western Cape
Languages: English, Afrikaans, Xhosa
Area: 2,445 square kilometres
Population (2011): 3.7 million
GDP: $58.9 billion
Currency: Rand
Time zone: UTC+2
Dialling code: +27
Internet TLD: .za
Climate: Warm-summer Mediterranean
Highest recorded temperature: 42.4°C
Transport Links
Given the city's positioning, status and urban responsibilities – as well as the widespread nature of Cape Town's suburbs and both high and low-lying areas – it comes as no surprise that the transport system is extensive and hugely refined.
Initially geared up as a port city, the longstanding tradition as such has culminated in The Port of Cape Town hosting one of the busiest shipping corridors in the world, while also setting the scene for the scope of consumer travel avenues as well.
Cape Town International Airport, the city's rail network, road infrastructure and general public transport have all been labelled as traditionally one of the best on the continent, and received a further boost in the early 2000s in preparation for the 2010 FIFA World Cup.
As the first country on the continent to host such an esteemed global sporting occasion, all eyes were on how an African city could cope with the sudden influx and demand; a challenge that was risen to via investments into a new airport terminal, improved rail and Metrorail links, a significantly enhanced public transport set-up and upgrades to the city's roads.
As a result, Cape Town – much like Johannesburg who also benefited from the national focus on the World Cup – is up there with anything the west can offer in terms of moving from place to place and, especially given the natural challenges and logistics of the city, this blend of nature and nurture will make any business trip far more simple than you would perhaps expect.
The business end
The World Cup in 2010 not only had a positive influence on the city's transport network, local economy and business outlets, but also provided Cape Town with an opportunity – or necessity, at the time – to improve its levels of accommodation; in preparation for welcoming the largest influx of people at one time ever seen in the area.
Not only was capacity an issue, but the pressure was also on to meet stringent quality and sustainability standards in improving the state of hotels, hostels, apartments and resorts around the city; a benefit that is still seen in the aftermath of the tournament for the business travellers coming into the country, and that is still being improved upon to this day as previous infrastructure for the World Cup continues to be renovated into offices and hotels.
This level of innovation and business acumen is indicative of a city that has long been the economic hub of the Western Cape, is South Africa's main economic centre, and is the third main economic hub city in the whole continent.
While tourism inevitably comprises a sizeable portion of this ongoing GDP growth, it is once again the mix of leisure and industry that keeps driving Cape Town forward, and key sectors including manufacturing, agriculture, financial services, supply chain, electronics and textiles have all flourished over the years as a consequence of its strong trade routes and its FDI (foreign direct investment) attractiveness.
Additional booms across real estate and construction markets – again largely thanks to the World Cup in 2010 – further cements Cape Town's standing as a key area for business growth, and subsequently, business travellers entering the city.
Multinational giants including Johnson & Johnson, Nampak, GlaxoSmithKline and Adidas all house manufacturing bases in the city to emphasise the level of industry being enjoyed in the city to this day, and the extent to which Cape Town has to make itself suitable for the business domain as a consequence.
Outlook recommends
"You really can't overstate the case for visiting Cape Town." – Pippa de Buryn, TheTelegraph
Museums
Sport & Leisure
At 130 years old, the oldest golf club in Africa attracts all skill levels to play a round against a backdrop of stunning proportions.
Animal Ocean Seal Snorkelling – Hout Bay
Food & Drink
Retail
Transport links
Striving for 100 percent customer satisfaction with each journey, Airport Shuttle Cape Town's reputation and relationship with the leading corporate and travel agencies in the city has made it a safe, reliable, trustworthy and innovative service for nearly 15 years. Operating seven days a week, its motto, 'Everyday we're SHUTTLING' epitomises the customer-friendly offering ASCT has built its success upon.
Airport Hopper (1/2)
Award winning affordability is provided by this personable shuttle service, with the corporate domain specifically targeted via its tailored offering.
Landmark attractions
Table Mountain
Table Mountain is arguably Africa's most renowned natural landmark and is a must-visit for tourist and corporate visitors alike in order to achieve the full Cape Town experience. As a natural backdrop to the city in general, seeing the spectacle is guaranteed, but with Devil's Peak and Lion's Head on either side, and the Cape of Good Hope offering the main chance to walk through the National park, there are no excuses not to turn scenery into an adventure for the day.
Clifton Beach
For those who prefer to keep themselves at sea level, Clifton Beaches offer a far more relaxed experience for executives looking to catch a bit of sun in between meetings or for those simply looking to lap up the waves at the end of a long day. Regular bus services to each of the four hotspots make the areas every bit as accessible as they are idyllic.
Kirstenbosch National Botanical Garden
For something a little more cultural or structured, Kirstenbosch Botanical Gardens represents one of the largest and most beautiful of its type the world over. More than 50,000 square metres of indigenous plant species and guided walks make it one of the most authentic experiences in Cape Town, while giving a wider sense of South African beauty for those only on short-stay visits.
Robben Island
"Used as a prison from the early days of the VOC right up until 1996, this Unesco World Heritage site is preserved as a memorial to those such as Nelson Mandela who spent many years incarcerated here," notes Lonely Planet regarding Robben Island; a site which can only be visited via a four-hour ferry tour, but that rewards you with a mixture of scenery, architecture and history to encapsulate the historical significance of some of South Africa's most important events
The main events

Winelands' Harvest Festivals
"During summer in Cape Town, everything comes alive: the mountain glows a brilliant green, the azure skies sing with cheerful birds, the seas dance with surfers and swimmers and even the nightclubs blossom with a multitude of foreign booze-seekers. So it's no wonder that this happens to be the time that the Cape Winelands' vineyards are at their ripest and readiest too, spilling over with plump grapes waiting to be plucked and blended." – Cape Town Magazine
Dates: January – April
Venues: Stellenbosch, Paarl, Calitzdorp, Robertson Wine Valley, Franschoek Valley, Durbanville, Darling
Cape Town Cycle Tour
"The Cape Town Cycle Tour is owned and staged by the Cape Town Cycle Tour Trust and it is the largest, timed cycling event in the world. It celebrated its 38th year in 2016 when, on the morning of Sunday 6 March, 35,000 cyclists lined up to ride the 109 kilometre route through some of the world's most spectacular scenery that includes the iconic Table Mountain as a backdrop." – Cape Town Cycle Tour
Dates: 12 March, 2017
Venue: City-wide
Website: http://www.capetowncycletour.com/
Taste of Cape Town
"Whetting the appetites of Cape Town's most dedicated and sophisticated foodies, the calendar highlight brings together some of the city's most acclaimed restaurants, artisan producers, award-winning wineries and carefully selected exhibitors to give residents a chance to sample a smorgasbord of distinctly local cuisine." – Cape Town Magazine
Date: April, 2017
Venue: Green Point Cricket Club
Website: http://tasteofcapetown.com/
Pinotage on Tap Wine Festival
"Diemersfontein is known for its beauty, informal elegance, and grace; an idyllic wine estate only 45 minutes drive from Cape Town and is situated near the Cape's famous Wine Routes. We warmly invite you to share with us the tranquil spirit of Diemersfontein – whether you are conferencing here, marrying here, staying for a few days of leisure (or even permanently), or taking some of it home in a bottle." – http://www.diemersfontein.co.za/
Dates: 29 October
Venues: Diemersfontein Wine Estate, Wellington, Western Cape
See the fully illustrated version of this travel guide in both the latest issue of the magazine and individual brochure here.