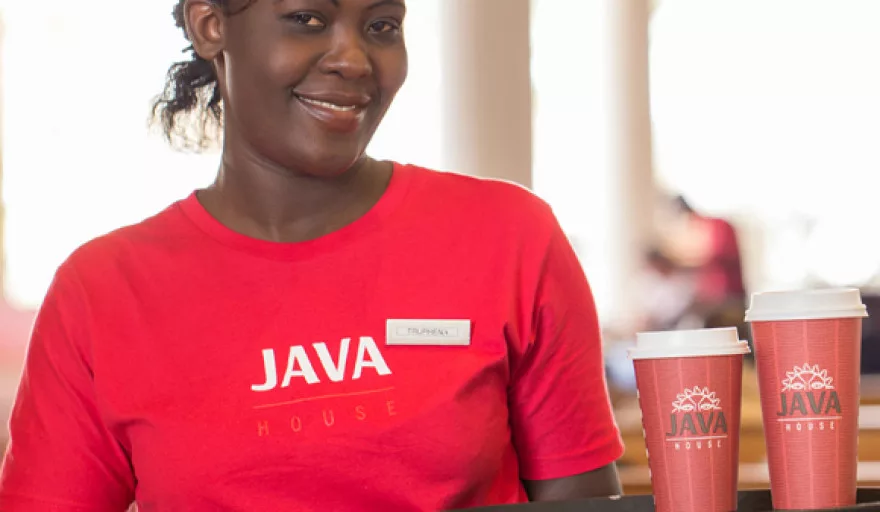 In 1999, a small coffee shop opened up in Adams Arcade along Ngong Road in Nairobi. It was the first of its kind in the region to offer export-quality Kenyan coffee, brewed and served in the region. Fast-forward 17 years and the chain has now expanded to 39 branches across Kenya and Uganda with around 1,400 staff serving thousands of customers daily. At the helm is Chief Executive Officer (CEO), Kevin Ashley and a management team that has helped drive Java House's extraordinary growth; motivated by a passion for good food, good coffee and good service.
The CEO first arrived in Africa as a 22-year-old American backpacker and fell in love with the continent. He came back in 1991 to work as a volunteer teacher in Kitale, Kenya. Nevertheless, as he describes, the region had one major flaw: the absence of a good cup of coffee.
Although Africa accounts for around 12 percent of world coffee production, African producers largely export coffee beans, and consumption on the continent is quite low. In fact, it is far more likely that a Kenyan working in coffee production will have eaten the cherry-like coffee fruit than tasted what we know as coffee. In Kenya, the beverage favored by many is a milky English tea, a tradition remaining from the country's colonial past. For coffee lovers, finding a decent cup of 'java' was no small feat.
"When I first came to Africa, I couldn't find a good cup of coffee. As a relief worker in 1993 on the border of Kenya and Sudan, we went to great lengths to create a decent cup. We would drive down to the Kakuma refugee camp, buy green coffee beans from the Ethiopian traders, roast them in frying pans, pound it up, and make our own coffee."
Ashley found this coffee better than what was already available, spurring on the idea to create a brand that has since democratised great coffee. He explains: "We went to the US to learn how to roast coffee; flew in equipment from Dubai, and started the first Java in Adams Arcade on Ngong Road in Kenya. Nairobi needed a good coffee house and a place to have breakfast which made this an ideal location to set up our business."
Rising demand
When Java House started in 1999, the majority of its customers were expatriates seeking good coffee. In 2012, the Financial Times reported: "Java House was the first chain to introduce the successful coffee house model in Kenya: a 'feel good' place for the upper-middle class and expat population to have coffee, lunch or dinner, with a consistent offering and quality across locations."
Over the past decade, however, there has been a steady rise in demand from the nation's consumer class as coffee culture began permeating the continent. Global behemoths have begun to take notice, with Starbucks having already opened its first branch on the continent in 2016.
Ashley had not predicted the extent of the demand for Java House, nor had he anticipated opening several branches, but as he explains: "If you have the capacity to bring something that someone wants to their neighborhood, then why not? If we have people in Donholm – a Nairobi suburb – who want a Java but they have to come to town to get one, why not build one in Greenspan Mall [in Donholm]? Why should we sit and let international brands come and dominate Africa when we understand this market better, when we know what people want?"
More than 40 branches later and Java House – originally known as Nairobi Java House – has dropped 'Nairobi' from its name following the opening of stores outside the city as well as five in Uganda. The Java Group has also launched 360 Degrees Artisan Pizza, a modern upscale pizzeria, and Planet Yogurt, a chain of seven self-serve frozen yogurt shops. The Group has reported revenue growth of almost 30 percent per annum since the end of the financial year 2010 up to 2016. "I can confirm that we are profitable, and as a result, we are able to finance our strategic growth plan using mainly internally-generated funds," says Ashley.
The Group also plans to open an additional 12 outlets in Nairobi, Eldoret, Thika, Nakuru, and Nanyuki in Kenya as well as three stores in Uganda this year. In addition, the Group is looking to expand outside of the region to explore opportunities in other African countries.
"Expanding across Africa is an exciting prospect for us. We are slowly beginning to penetrate Uganda, but the potential for further regional expansion is great. We are extremely ambitious about our potential reach and aim to have every major African city bustling with Java House restaurants over the next decade," says Ashley, who remains committed to providing quality coffee to the African public.
Mindful employers
Alongside its commitment to great coffee, the Group also takes its responsibility to its people very seriously and takes pride in being a great place to work. Many of the team who staff its 47 sites – including Planet Yogurt and 360 Degrees Artisan Pizza – started out as waiters and cashiers, and a significant number have been trained and mentored to grow into managers.
In addition, 46 percent of its workforce is made up of women; who are encouraged to stay with Java thanks to above-average market wages, paid maternity leave, healthcare, pensions, and more flexible working time factored in for childcare.
In 2016, Java House became the first restaurant Group in East and Central Africa to receive the ISO 22000:2005 certification for food safety management systems.
The Company also treads lightly on the environment in terms of energy and water consumption and waste production by using the latest equipment, systems and processes. There are many examples of how this translates into practice such as converting used cooking oil into biodiesel and using foot-operated faucets with smaller nozzles to lower water use.
Java's supply chain sources locally, buying in KES 80 million of fresh produce monthly from East African suppliers. This reduces food miles and improves traceability while supporting local farmers. Locally-sourced milk goes into many products, including Java's own delicious ice-cream.
The board of directors, which includes CEOs and executives from some of the largest East African companies and international industry experts, is committed to supporting Java's growth, promoting good corporate governance, including zero tolerance for uncompetitive business practices.
Java House is one of a new breed of authentically African businesses embracing global standards of best practice, growing responsibly to meet the new consumer demands of a continent that is indisputably on the rise.
Read this article and more in the latest issue of Africa Outlook here.