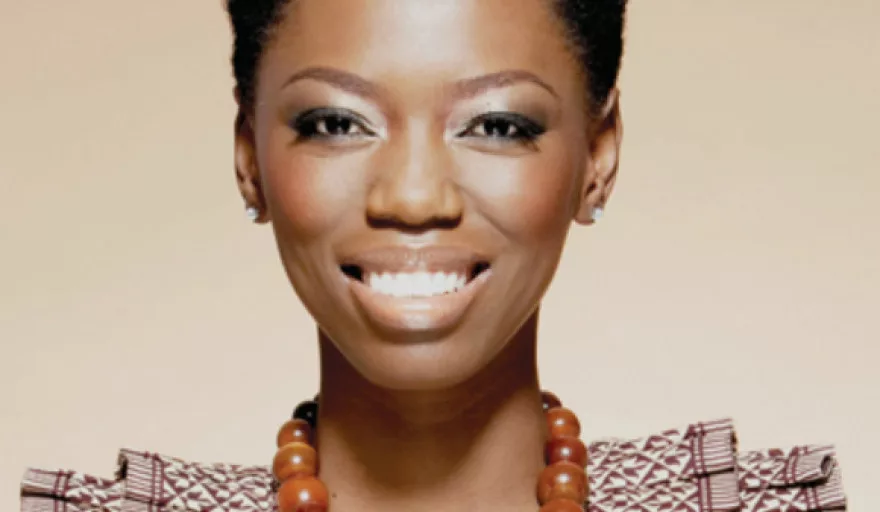 LIRA is already a megastar in South Africa. Now, the queen of Afro-soul, jazz and R&B is making her way to the States, armed with her first American release, Rise Again.
The 33-year-old Lerato Molapo, AKA LIRA, is fast becoming the ambassador of a new generation of 21st century female singer-songwriters, heirs of South African icons like the legendary Letta Mbulu and the symbol of the struggle against apartheid Miriam Makeba.
Widely regarded as one of South Africa's top adult contemporary artists, LIRA has racked up an impressive series of achievements since launching her musical career nearly a decade ago, blazing a trail of accomplishments that few artists in the history of the continent can lay claim to, from releasing the first blu-ray to gracing the covers of an infinite number of fashion and lifestyle magazines, and maintaining the largest Facebook following of any South African musician, with over half a million fans. She has been graced with a multitude of accolades and nominations from South African Music Awards, MTV Africa Awards, BET Awards, Channel O Awards and MOBO Awards, as well as Glamour Magazine South Africa's "Woman of the Year"; all of which have left an indelible impression on the African people.
Who is LIRA?
Growing up in the Daveyton township in Johannesburg's East Rand, LIRA's world was shaped by the harsh realities of South Africa's formerly ubiquitous racial and socioeconomic arbiter: apartheid. However, the sociopolitical constraints levelled at her generation did little to inhibit the urbane aspirations and dampen their resilient spirit of transcendence.
"In South Africa, we became very integrated with not only other black cultures, but people of all backgrounds. This made us thirsty to integrate into the world. My generation was the first to break free of our mental limitations and physical boundaries and set ourselves free in a true sense. It celebrates the human spirit, which can never be caged completely. A person can put you in a cage and hurt you, but they can't touch your spirit and your mind. It's celebrating those freedoms," explains LIRA.
In 2003 LIRA's debut album 'All My Love' earned the grand distinction of dethroning an international superstar from the top spot, the title track knocked Beyoncé's 'Dangerously in Love' off the number one position on South African charts, marking the first time in history a local song had been played as frequently. LIRA went on to release three more platinum selling albums including 'Feel Good' (2006), 'Soul in Mind' (2008) and 'Return to Love' (2011) while the title track to her debut album 'Feel Good' officially became the first music video from a South African artist featured on VH-1.
In 2010, LIRA joined Alicia Keys, Black Eyed Peas, Shakira, K'Naan and John Legend at the FIFA World Cup Kick-Off Concert to perform a rousing rendition of Miriam Makeba's crossover classic 'Pata Pata'. Soon after, she was selected to perform as part of former South African president Nelson Mandela's 92nd birthday celebration telecast. Her performance of the popular Labi Siffre anti-apartheid tune and Mandela favourite '(Something Inside) So Strong', with the Soweto Spiritual Singers, proved to be one of the most stunning live vocal performances in her career.
New album
Rise Again will be the first album to officially reach international ears. Described as "a fusion of soul music, elements of jazz, funk, and African languages", global media outlets have been taking notice, with Essence Magazine naming LIRA one of "Five Unique Artists Set to Change Music in 2012" and L'Uomo Vogue spotlighting her in their 'Re-Branding Africa' issue.
"Rise Again offers a persuasive testament to the human spirit's ability to transcend in the face of obstacles and seemingly insurmountable odds, and her confident and vibrant, inspired performances bring the songs' upbeat lyrical sentiments to life. LIRA's music reflects her abiding love for such seminal influences as Miriam Makeba, Stevie Wonder, Aretha Franklin and Nina Simone, and sits comfortably alongside the contemporary work of such performers as Sade, Maxwell and Lizz Wright, but LIRA's singular voice and deeply personal perspective make her a one-of-a-kind recording artist, as well as a top-flight concert attraction," commented a recent press release.
As part of a new cadre of African artists making waves stateside such as K'Naan, Nneka, and D'Banj, LIRA sees herself as an ambassador of the new Africa: a land where, despite a recent history filled with obstacles, a future brimming with infinite possibilities lies. This pressure to thrive outside of convention has bred a unique brand of ingenuity that will propel her and her fellow artists to the world stage.
"We're proud of being African, but there's also a desire to be a part of the world. Part of the way we can raise the consciousness back home is when people see us rise on the world stage. We don't do it for the individual, we do it for the entire group," she said.