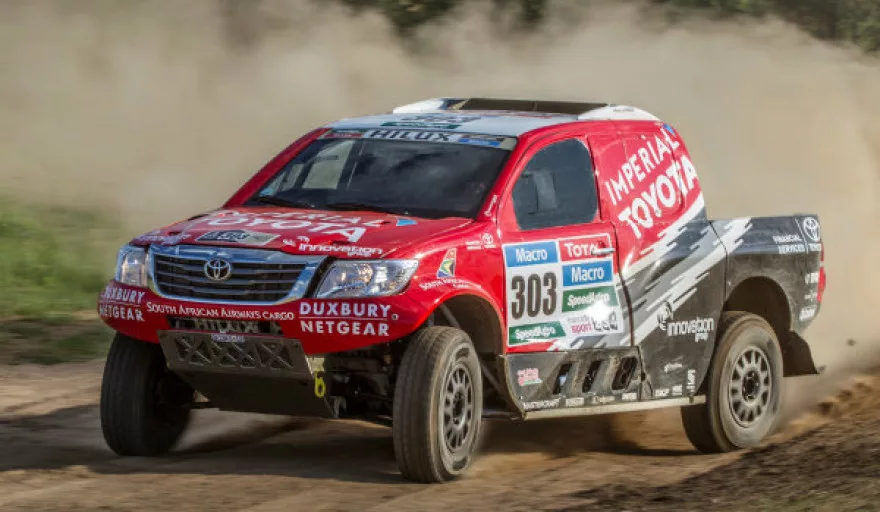 South African Airways Cargo (SAA Cargo) has once again been revealed as a proud partner of the Toyota Imperial South Africa team for the 2015 Dakar Rally, the toughest and longest motor race in the world.
The air freight company took the opportunity to support the team again after being approached by the Japanese manufacturer to transport the racing vehicles to Sao Paulo, Brazil en route to Lima in Chile.
The shipment consisted of three vehicles and spares amounting to around 7,941 kilograms in weight, and took 16 hours to reach its destination after 11 hours spent on the aircraft.
"It takes a lot planning to ensure that the shipment arrives safe at its final destination and this cannot be achieved without hard work of the competent SAA Cargo team that works closely with the Toyota Imperial shipping agent to ensure that the entire process is carried out meticulously," said Tleli Makhetha, SAA Cargo's General Manager.
The 37th edition of the Dakar Rally started in Buenos Aires in Argentina on January 4, 2015 and will take place over a period of 14 days and 13 racing stages. The 450 cars, trucks, motorcycles and quads will cover a total distance of some 9,500 kilometres of which 5,000 are against the clock, before ending in Buenos Aires, Argentina.
· The racing vehicles are designed in line with size restrictions for commercial cargo holds and thus built in such a way they can be disassembled to the size of the pallet and container to be used.
· It takes around three hours to disassemble each car and six hours to reassemble.
· Each car weighs approximately 2,000 kilograms.
The Toyota Imperial South Africa team has lived up to expectations and proved why they are among the favourites at this year's event as they performed very well despite the many challenges experienced in the opening stages.
Makhetha said, "We are quite happy with the partnership as it does not only demonstrate our commitment to promoting our country through sport but also promote our cargo services during this global even.t"
Team SA is represented by Giniel de Villiers, Dirk von Zitzewitz, Leeroy Poulter and Rob Howie.
The Dakar is known as a race that takes no prisoners as the race stages progress however the SA team continues to impress. The team had a fantastic drive on the second day of the so-called marathon stage (stages without service assistance) which saw Giniel de Villiers and German navigator Dirk von Zitzewitz post the 4th-fastest time. This places them in second position overall after eight stages of the 2015 Dakar Rally.
"SAA Cargo congratulates the Toyota Imperial South Africa team on their performance so far and wish them a great finish," said Makhetha.