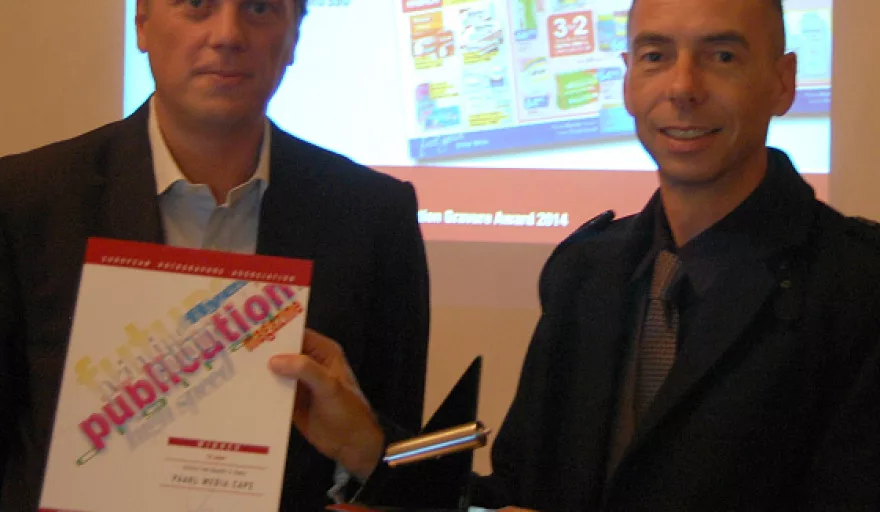 Paarl Media Cape received the international printing award for the Clicks Health and Baby catalogue and commendation for the HomeChoice catalogue at the 2014 European Rotogravure Association Publication Gravure Awards held in Salzburg, Austria.

The awards are organised by the European Rotogravure Association (ERA), a non-profit organisation dedicated to supporting users of the gravure printing process. Once an art form and a craft skill, gravure today is a computer controlled manufacturing process, offering outstanding print quality, output consistency, highest versatility and speed.

The ERA is the leading international organisation of the gravure industry with members worldwide from the publication, packaging, and decorative printing sectors. The annual ERA Publication Gravure Awards aim to encourage the very best publication gravure production within Europe.

The Paarl Media Group is a member of the ERA and Paarl Media Cape was the only African company represented at the awards ceremony.

Entry categories are based on paper type and basis weight, with a further subdivision between the finishing processes of printed products. Paarl Media Cape, known for its streamlined processes and reliable technology, won first place in the Uncoated Paper category for the Clicks Health and Baby catalogue and received an ERA commendation for the HomeChoice catalogue in the Lightweight Coated Paper category.

"Congratulations on the ERA commendation, it is a testament to Paarl Media's high calibre of service and ongoing commitment to deliver excellent quality printed products on every order," says Anthea Abrahams, ecommerce & marketing director at Home Choice, a direct marketing homeware retailer in Southern Africa.

"Undeniable quality and value for money is a result of our investment in refining our skills and processes. This award reflects what we strive to achieve with all of our customers: to produce the highest quality products, as efficiently as possible, using the latest technological innovations," says Christoff Botha, executive director: heatset, Paarl Media Group.

"This accolade shows how the standard and quality of printed products in South Africa is on par with the rest of the world. Our South African consumers can be confident that they are receiving world-class service and products," Botha continues.

Printed samples submitted for entry were judged according to various aspects of product quality. These included register (colour, backup, ribbon and fold), tone (density, gradation and colour balance), detail in images and text, evenness of print fold accuracy, job complexity, and the absence of printing faults.

Paarl Media Group's extensive track record of printing, binding and distribution gives a unique understanding of the African market but also over time, has allowed the organisation to grow and meet the highest of global standards. Paarl Media Cape is firmly committed to continuing their investment in quality and technical innovation.
Pictured: Martin Koen (right) receiving ERA Publication Gravure award