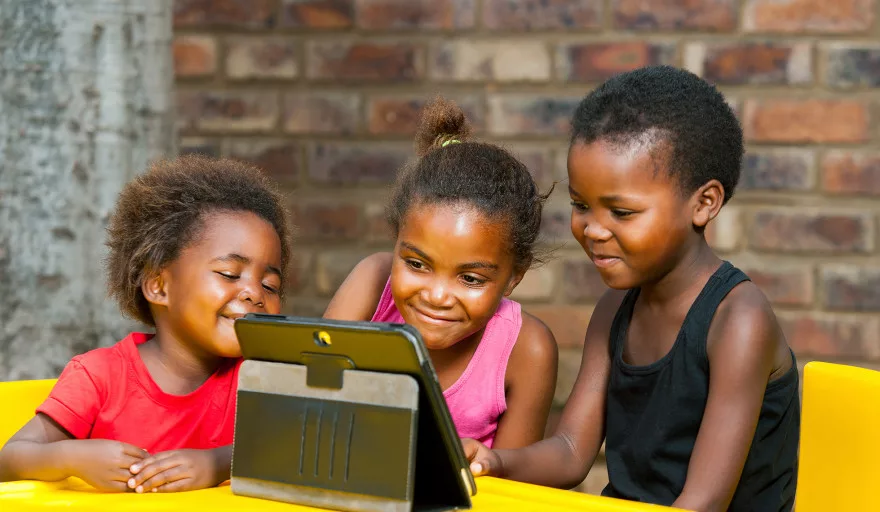 Africa's EdTech Renaissance
With COVID-19 having acted as a catalyst for the digital age, we take a look at the education sector in Africa, and how EdTech is growing and thriving through accessibility and necessity

Writer: Marcus Kääpä
The face of education in Africa has changed since COVID-19.
The pandemic has forced into action social restrictions and safety protocols necessary for the wellbeing of people and the limitation of virus transmission, and as such resulting necessities have also shaped the way working and learning have been conducted.
We now live in a unique period of time; one in which digital connection, working and learning has been widely accepted as the new norm. When it comes to education, online studying in Africa has become a major resulting shift of the pandemic.
Youth development
According to the United Nations Children's Emergency Fund (UNICEF), close to half of Africa's population is under 18, and as reported by the UNESCO Institute of Statistics, one out of five children between the ages of six and 11 are out of education. This number rises as the children age, with an entire third of young people between 12 and 14 out of school, increasing to a startling 50 percent for those between 15 to 17.
These numbers become ever more notable when you consider enrolments based on gender. For those children from six to 11 years old, approximately nine million African girls will never go to school compared to six million African boys. This is already a staggering number of children who are not able to follow the route of education, but even more surprising when comparing this gender difference.
In recognition of the role of education in the development, welfare and growth potential of children, the United Nations (UN) designated education as one of the organisation's Sustainable Development Goals (SDGs), and as such, traditional entities, including schools and universities, alongside innovative new EdTech companies, are on the rise.
The EdTech industry has seen a substantial increase in funding, with 2021 enjoying over an 80 percent growth compared to last year. This level of growth has allowed key African EdTech players to expand their service offerings as well as their continental coverage and has led to the rise in significant new and effective companies in the sphere.
EdTech Newcomers
Kidato is new on the African EdTech scene. Based in Kenya, the company operates as an online school for K-12 students, providing high-quality and affordable education since its establishment in 2020. Kidato has since managed to raise in excess of $1.5 million in funding, including funds received from the likes of Y Combinator ($125,000) and Learn Start Capital, Graph Ventures, Century Oak Capital, and Launch Africa Ventures ($1.4 million collectively). This funding will be used for growth and product development.
Zedny, Egypt's Arabic e-learning platform, was founded in 2018 and was granted $1.2 million Pre-Seed funding last year. The platform has over 200 online courses, 400 animated educational videos, and a total of over 5,000 hours of study material. Zedny provides its platform and material across the Middle East region, with a great focus on those seeking to develop and grow their skills in the field of business. Zedny's overall mission is to offer cost-effective educational services to strengthen Middle Eastern business and human potential.
Digital Media
Existing within the media and technology sphere, Snapplify specialises in digital content retail and distribution to various educational institutions as well as individual users. Schools, colleges and universities make up its client base of approximately 1,400 institutions, and so each Snapplify delivers prescribed eTextbooks, videos, apps and audiobooks from over 270 partnering publishers. Snapplify raised $2 million Series B funding enabling the company to gain and help more customersand grow its market footprint in the form of business development.
The Kenyan-based company Kukua raises the African educational game. The company's services leverage new media and technology to offer sensory experiences, engaging children's learning on a new level. $2.5 million in total funding has paved the way for Kukua to combat illiteracy in children across the continent through game-based educational apps, such as Sema Run.
Big Fish
Moving to the upper echelons of educational funding capital, the African Leadership Academy has received a massive $55.8 million in overall funds since its inception in 2008, with the latest round consisting of $30.8 million Series B funding granted from Omidyar Network and Anders Holch Polvsen. A Mauritius-based start-up, the African Leadership Academy aims to grow and develop African leaders who will address the challenges the continent faces, as well as move the growth of the continent as a whole.
And looking towards the early stages of the education system, Kenya's Bridge International Academies have raised a collective $27.8 million to increase its reach to more schools and to help a greater number of impoverished children across Africa. The academies provide education to underprivileged children in accordance with the national curriculum, and offer in-depth teacher training, as well as the latest technology, which is absolutely free to access for the children.