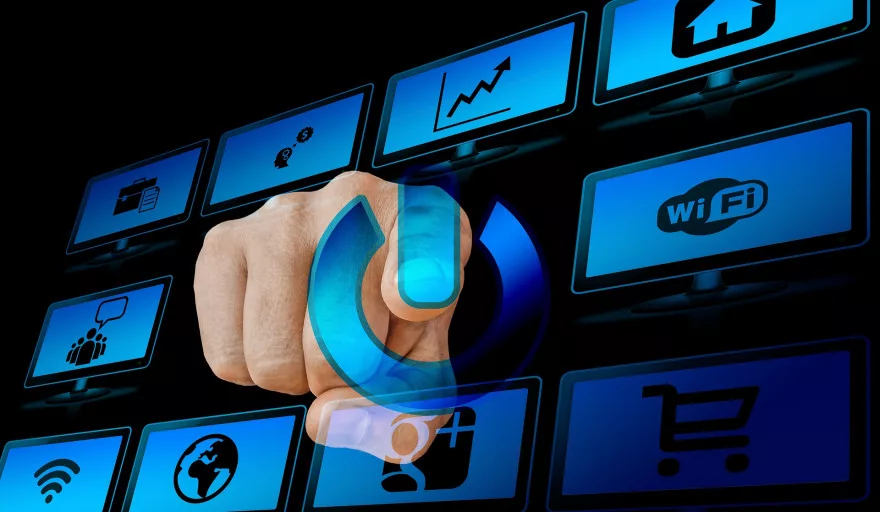 There aren't too many parts of the world where Siemens hasn't made its mark.
Turning over more than $92.5 billion in 2018 and employing almost 380,000 people around the world, the company is unrecognisable in terms of size and scale compared to when Werner von Siemens established it in 1840s Berlin.
Defined by innovation and German engineering ingenuity, today's Siemens is a beacon of modernity and renowned for providing immense career development opportunities, a view very much reflected by organisation veteran Ralf Leinen.
"Siemens is a great employer," he says. "With its global operations, it provides numerous opportunities for personal growth. Having been to many countries including USA, and now in Africa, this has helped me develop a broad spectrum and understanding of markets, business drivers and cultures.
"Previously I was on a delegation to the USA and now to Africa. My passion lies in the vision of Siemens, operating in the communities we serve – working on topics that matter to society means we can actively make a change."
Having begun at the company in a sales role in his hometown Cologne in 1990, Leinen has enjoyed a long relationship with his employer, one defined by opportunity and introductions to different cultures, and typified by the chance to move out to South Africa.
"Based on my vast experience in global markets, this was a joint decision between global management and me to move to South Africa," continues Leinen, who now serves as Senior Vice President Digital Industries for Southern and Eastern Africa. "I find great passion in working with different cultures and customers.
"Despite the challenges that lie ahead, I find that South Africans have a can-do attitude, and this is truly inspiring. We have achieved many milestones and in the Siemens world, the South African team is well respected, and I am truly proud to be part of a high-performance team."
Dawn of Digitalization
The can-do attitude Leinen refers to is vital if South Africa and indeed the continent is to reach its undoubted economic potential.
For Siemens, digitisation is providing the region with the opportunity to accelerate growth and rapidly expand struggling economies – but it's a small window and decision-makers must get a strategy in place now in order to succeed.
This is the major takeaway from a recently produced research project conducted in conjunction with Frost & Sullivan.
Named the Dawn of Digitalization and its Impact on Africa, the report considers growth predictions and where the adoption of smart technology would be most beneficial in expanding industries to drive sustainable growth, focussing on four key sectors – manufacturing, water, mining, and food and beverage.
While it outlines some of the challenges in implementing digital technologies to these industries, the study also points to many ways in which Siemens is actively helping to make a difference.
Leinen points to the automotive space, where in South Africa the company supports in some way around 57 percent of total local production, or 341,600 cars annually. Of these cars produced using Siemens technology, some 252,500 were exported.
"In the area of food and beverage, Siemens solutions automate and intelligently control bottling lines at some of the largest carbonated soft drink bottling plants in the country," he adds. "In 2016, Siemens technology supported approximately 79 percent of the total local production of 4.2 billion litres."
Further, in the utilities market, over the last four years Siemens flow meters have accurately measured the flow of around 3.7 million megalitres of water.
Leinen continues: "Driving growth and investment in our local operations and strengthening our market leadership position remain crucial to us becoming the partner of choice to our local customer base, and truly contributing to local society by creating opportunities."
The Siemens stalwart is also fully aware that the creation of such opportunities has and will continue to be challenging at the same time.
Indeed, Leinen says that the adoption of digital technologies, innovation as well as a range of digital customer offerings are expected to remain varied across industries, markets and geographies.
He also foresees that the extent and impact of digital technologies varying in the future, favouring businesses and industries that seek relevance and increasing contribution in international markets in addition to existing domestic markets.
"In the wake of changing business dynamics, rapidly evolving technology and increasing competition, collaborative efforts between governments, industry, businesses (local and international), labour and academia is vital for creating an environment that is conducive to developing sustainability of local businesses, encourages technology upskilling, innovation, knowledge sharing and execution," Leinen adds.
"For the first time in history we have an incredible opportunity to use smart technology to transform entire economies at an unprecedented rate.
"Africa needs to get efficient strategies in place now. Digitalisation is providing the continent with the opportunity to accelerate growth and rapidly expand struggling economies – but it's a small window and decision-makers must get a strategy in place now in order to succeed."
Dawn of Digitalization – a summary
Key observations from the Dawn of Digitalization and its Impact on Africa can be summarised through the four sectors studied, as follows:
Manufacturing: "While the most mature in its transformation and adoption of digital technologies in Africa, manufacturing remains a marginal player struggling to make a bigger impact on country GDPs. The question governments need to ask themselves is how they align a 'here-and-now' emphasis on job creation with the necessary focus on digitalisation. This will enable Africa to create a niche within the global economy. If we fail to pro-actively select our place within the global manufacturing industry, we run the risk of continuing on this path of non-industrialisation."
Water: "In the water industry, expenditure in water infrastructure has been low when compared to the global average. Inadequate investment in infrastructure coupled with poor water utility management has resulted in a greater need for development of the water sector."
Mining: "In the mining industry which has been witnessing subdued investment, rising cost pressures and increasing labour issues, a combination of mechanisation, efficient extraction of resources and better use of data can make it easier for mine operators to cut costs and create a leaner and more efficient mining operation. As such, the successful incorporation of technology will be possible through collaborative efforts of technology providers, industry, research institutes and organisations that work for uplifting the mining industry."
Food and beverage: "The urban population in Africa is expected to grow to 56 percent in 2050, from 35 percent in 2010. This rapid urbanisation combined with preference shifts towards formal retail will drive demand for FMCG products. Food and beverage manufacturers must consider many factors: a consistently high level of product quality, maximum plant availability, optimum resource efficiency – and, increasingly, the greatest possible flexibility in order to meet more and more individual customer requirements. Mastering all these challenges today and in the future is possible only with digitalisation."