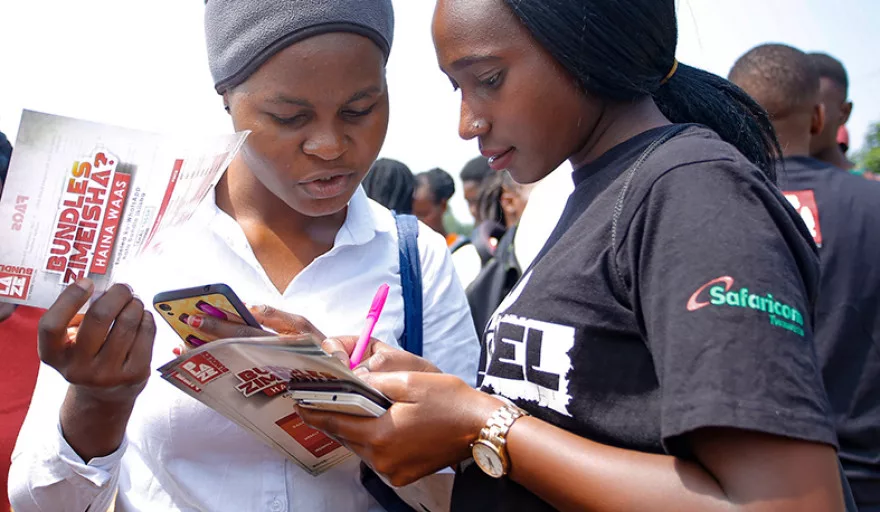 Around the world, the modernised, optimised millennial processes brought about by emerging technologies have paved the way for digital and enterprise transformation.
In Kenya, this backdrop is no different.
One of East Africa's leading lights, the country recently claimed third place in the World Bank's Ease of Doing Business report for Sub-Saharan Africa, owed to its growing youthful population, skilled workforce and dynamic private sector.
The latter of these core elements is underpinned by the nation's thriving telecommunications sector.
From the deployment of fibre and LTE infrastructure upgrades to the arrival of 5G and rapid internet and mobile subscriber growth, it is an industry that has flourished following its liberalisation in 1999.
The government has been a key proponent of the monumental technological strides that Kenya has taken, continually adhering to its overriding ambition of becoming East Africa's technological hub.
Yet arguably it is Safaricom that has played the greatest role, emerging as a true powerhouse of the country's and indeed continent's digital economy since its inception almost two decades ago.
Pursuing a purpose
Now serving over 30 million mobile subscribers across the country, Safaricom remains invested in a unique way of conducting business, driven by its purpose of 'Transforming Lives'.
Stripped back, this is essentially a social upliftment mandate, the company ensuring that its operations serve to create opportunities for the Kenyan people, allowing them to become part of its growth story by empowering them with the platform and tools they need to achieve socioeconomic growth.
This win-win ethos has been embodied by numerous different initiatives including the enterprise's base station programme, the roots of which can be found in the Kapedo Base Station.
Set up in the heart of the Great Rift Valley where resident communities had historically been engaged in inter-tribal clashes, the base station has helped to provide not only mobile phone signal but equally a link to emergency services, healthcare services and educational opportunities.
"The origin of our most impactful transformation stories is the base station," Safaricom states on its website. "We now have over 4,000 towers connecting Kenyans from Turbo to Turkana with each of these base stations having its own unique story to tell."
Embodying social empowerment, these base stations merely touch the surface when looking at the true extent of Safaricom's social impact, however.
Mobile wallet health service M-TIBA represents a second flagship CSR investment from the company, a community tool created by a joint venture between CarePay, PharmAccess Foundation and Safaricom itself. Leveraging the trio's respective strengths, M-TIBA today delivers healthcare solutions to more than 100,000 Kenyans via 60 key healthcare providers.
"We have also partnered with the government numerous times to extend more services to Kenyan citizens by digitising primary schools, connecting health centres, streamlining payments to farmers and much more," the company continues.
"By working with Eneza Education, we are enabling over one million children to access interactive education material through the very simplest of mobile phones."
The vast majority of these social investment efforts appear under the widespread umbrella of the Safaricom Foundation.
Kenya's largest corporate foundation, it has helped to benefit over a million people via various disaster response schemes. This includes 830,000 Kenyans having received specialised health services through mobile medical camps, 680,000 children now learning in classrooms, 232,000 people having been empowered by community-based income generation projects and 172,000 Kenyans having been provided with clean and safe water.
"In addition, the Safaricom Foundation has planted over 5.6 million trees in community nurseries and in large scale conservation projects; constructed 181 classrooms and dormitories and 50 special units to cater for the special learning needs of children," the company adds.
Now 10 years old, the Foundation's total financial contribution to date exceeds Ksh1.8 billion ($18 million), funding that has been used to help address issues related to health, education, economic empowerment, environmental conservation, water, arts, culture and disaster relief.
Facilitating financial independence
While the aforementioned examples showcase some of Safaricom's incredibly important and humbling initiatives, CSR is not the only way in which the business has helped to transform lives, its customers also benefitting greatly from its progressive mindset and offerings.
Adhering to its strategic pillars of putting customers first, delivering relevant products and maintaining operational excellence, the firm proactively invests in next-generation technologies, evidenced by its ongoing roll out of the country's leading 4G network.
Safaricom expects to spend over $360 million in the next 12 months to increase 4G coverage, rolling out an additional 2,030 4G and 4G+ base stations with aim of reaching more than 80 per cent of the Kenyan population.
"[We] have a vision to become the best 4G network for everything from gaming and entertainment to social networking and I look forward to collaborating with a cross-functional team to make this happen," stated Michael Joseph, Interim CEO, in the company's annual report published August 5, 2019.
"Growth in this area will support our evolution into a digital lifestyle enabler, which will position us favourably to grow new revenue streams from non-traditional products and services… and other innovations in the pipeline."
Alongside LTE, M-PESA has firmly become Safaricom's second key investment focus area.
A mobile phone-based money transfer, financing and microfinancing service, it currently processes up to 21,000 transactions every minute and provides access to two mobile-based loans every second, financially empowering Kenyan's from all backgrounds.
Within the latest Annual Report, Safaricom released a statement from Bob Collymore as part of a tribute to the recent passing of the company's long-standing, cherished Chief Executive Officer. Here, Collymore himself emphasised the importance of M-PESA to both Safaricom and indeed the country.
"As customer needs evolve, so does our strategy and we continued to innovate and invest in M-PESA, including upgrading our core platform to support 1,200 transactions per second – in order to meet these needs," he stated.
In addition, the scrapping of M-PESA fees for transactions below Ksh100 and reduction in merchant fees helped to enrich the M-PESA ecosystem and facilitate its furthered popularity, enabling Safaricom to take the service into new markets.
Collymore continued: "This saw us embark on a journey to take M-PESA to the world with M-PESA Global, which allows customers to send and receive money, make payments and participate in international ecommerce through partnerships with Western Union, PayPal and AliExpress.
"One month after its launch in January 2019, over four million customers had transacted more than $62 million. By May, that number had grown to over $450 million and continues to grow as more customers turn to it…"
This exponential growth, combined with M-PESA's increasing use in commercial transactions, has seen its transactional volume grow by 22.1 percent and transactional value grow by 27.9 percent during the past year.
To put this into perspective, M-PESA accounted for 76.6 percent of annual service revenue growth and contributes 31.2 percent of total service revenue for Safaricom, the company now catering to the financial needs of 22.6 million M-PESA customers.
Nawe Kila Wakati
Aside from M-PESA, the telco's customers have benefitted from its innovative outlook in other ways.
Enhanced digital experiences have equally come in the way of customer care-related initiatives, the firm having served over 102,000 unique users with its chat bot while currently serving 700,000 daily users on the MySafaricom App.
Such developments have also been accompanied by the implementation of voice biometrics, interactive voice response systems, and an increased use of data analytics, allowing the company to provide predictive, proactive and personalised offerings to its customers.
In addition, more traditional customer service improvements have been made, including the launch of a new call centre in Eldoret and employment of 800 people to help meet demand.
This latter point embodies the firm's 'Nawe Kila Wakati' (Always With You) motto, again reflected by its recently repositioned bundles and consolidated status as Kenya's most trusted company.
"Our goal was to deepen customer engagement by giving access to affordable voice, data and messaging services," the company stated in the Annual Report. "Safaricom hopes to endear itself to Kenyans as an enabler, a brand that allows customers to communicate, socialise and do business.
"Nawe Kila Wakati is our way of showing Kenyans that we understand their challenges and we are here to share the load and ease the burden."
Maintaining momentum
From social upliftment efforts and the Safaricom Foundation to the development of innovative new offerings in aid of upholding world-leading customer satisfaction, it is easy to see why the telecommunications giant has established itself as one of Kenya's and indeed East Africa's leading businesses.
As traditional revenue streams have plateaued, the company has continued to redefine its focus in a proactive manner, both tapping into new opportunities and delivering greater value for its customers, shareholders, partners and local communities.
Looking ahead, the Annual Report dictates that the company will continue on its current trajectory, diversifying its revenue portfolio and investing in the quality of its services.
"We are constantly questioning if we are on the right path and if we are staying true to our course of making a fundamental difference in people's lives with everything we do," Safaricom states.
"We are already in the journey of digitising Kenya; in the next three years, we aim to be Kenya's largest digital services provider by building an ecosystem of partners. Our vision is to provide the optimal digital solutions that make the lives of our customers simpler and better.
"Partnerships are at the centre of our journey to be a digital service provider."
A tribute to Bob Collymore
Bob Collymore, Chief Executive of Safaricom, died on July 1, 2019 after a two-year battle with cancer.
The highly esteemed and widely admired businessman spearheaded Safaricom for almost a decade, a period in which the telco doubled its customer base and saw profits increase by 380 percent, making the firm a $10.8 billion company.
A key part of this development process also saw Safaricom launch a number of applications and social initiatives that have helped low income people across Kenya and the world gain access to digital and financial services, such as M-PESA, for the first time.
Statements from Collymore in Safaricom's latest annual report reflect such values that he himself was a major proponent and indeed architect of.
He stated: "One of the most important lessons to learn in business is that no business can succeed when the community around it is struggling. This was true for Safaricom last year.
"In response to this, we adjusted our strategy to enhance the delivery of services in finance, agriculture, healthcare and education, creating greater value for our customers, shareholders and the communities we operate in.
"This approach, which is in line with our purpose of transforming lives, saw us invest more in our communities, using mobile technology to empower millions of Kenyans across the country."