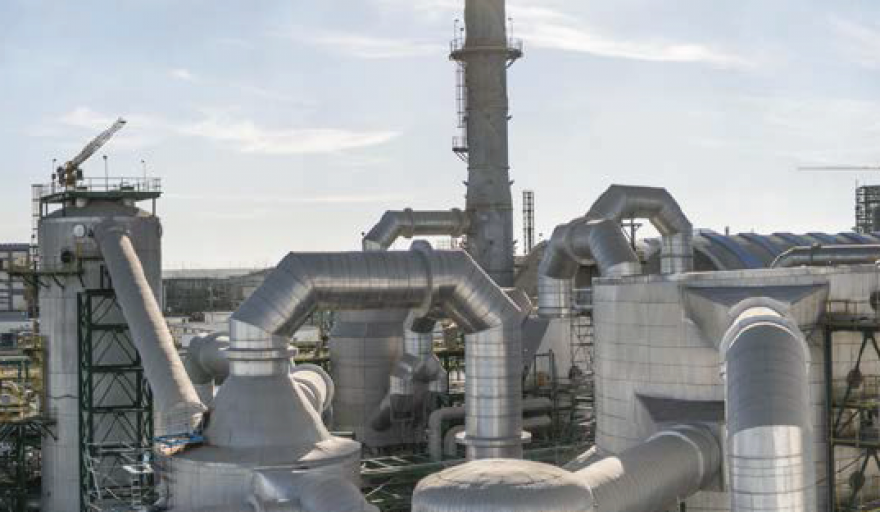 Morocco, perhaps unbeknownst to some, is a massive producer and exporter of phosphate.
Home to around two thirds of the world's phosphate reserves, the North African country sits in a higher league than major competitors and economic giants like China, Russia and the USA.
It is the frontrunner of a huge market, set to be worth $75 billion globally by 2021 thanks to a solid forecasted growth rate of 1.9 percent a year. By 2024, this demand will equate to some 88 million metric tonnes.
OCP Group is Morocco's 95 percent state-owned phosphate powerhouse, the largest producer and exporter of the mineral in all its forms anywhere on earth. With exclusive access to the world's largest phosphate reserves, the Company employs 23,000 people at numerous production and distribution sites and turned over $5 billion in 2017.
This revenue is derived from operations spanning the entire value chain, serving more than 160 customers across five continents.
"The Group is fully integrated, from mining to processing to the sale of phosphate products," explains Hanane Mourchid, Head of Circular Economy. "Circular Economy is the programme promoting sustainability within OCP, including water and energy strategy, waste recycling, environmental performance and resources stewardship.
"OCP provides a wide range of well-adapted fertiliser products to enhance soil, increase agricultural yields, and help feed the planet in a sustainable and affordable way."
Established with almost a century of expertise OCP has been a crucial player in the development of Africa's agriculture industry, with sustainability now sitting very much at the heart of the organisation's strategies.
In February 2016, OCP Africa was created, a subsidiary fully dedicated to the development of sustainable farming systems across the continent.
The Group puts Africa at the heart of its growth plan using a personalised approach and the newly created subsidiary aims to meet the challenge of a structured, efficient and sustainable agriculture sector.
OCP Africa provides farmers with all the means to succeed – access to adapted and affordable products, services and support, as well as logistical and financial solutions. As a world leader in the phosphate industry, OCP Group leverages all possible means to contribute to addressing the food security challenge and to meet the needs of present and future generations.
An industry leader
OCP holds a unique position in the phosphate industry thanks to its leading position in the three main segments – rock, acid and fertiliser.
It is in the midst of an enormous investment plan, committing $21 billion of spend on upstream and downstream activity between 2008 and 2027 in response to a spiralling global demand for food, the ultimate aim being to double the Group's mining capacity and triple its processing capacity by 2027.
This is helping to optimise the Group's day to day activities, which involve the extraction of a wide variety of rocks of different grades and production of a diversified product portfolio, including phosphoric acid, phosphate fertilisers and animal feeds.
"OCP's ability to alter its product mix quickly to produce different volumes and qualities of phosphate rock, acids and fertilisers, and to adapt to market volatility and seasonality represents a real competitive advantage," adds Mourchid.
"The diversification strategy with respect to the portfolio, region and client makes the Group's industrial presence strong and allows for maximum agility and flexibility while strengthening OCP's leadership."
Indeed, the Company holds significant market shares in Africa, North America and Latin America, supplying products all around the world that are produced from three mines and two major chemical sites in Morocco.
Jorf Lasfar is the world's largest chemical platform with a fertiliser production capacity of 11 million tonnes a year, while Safi is OCP's first chemical site, launched in 1965 and currently housing an annual capacity of a million tonnes of fertiliser and 1.5 million tonnes of phosphoric acid.
Saving sulphur
In October 2018, OCP announced a huge breakthrough that will contribute enormously to its environmental and sustainable mandate.
The implementation of the Sulfacid process, an innovative solution that has cut sulphur dioxide emissions by 98 percent, from around 600 parts per million (ppm) to less than 15 ppm.
Sulphuric acid is produced and used by OCP in its production of phosphate products, with the Sulfacid technology currently being installed at the Jorf Lasfar and Safi industrial platforms. The project is expected to cost around $58 million.
"The Sulfacid process has been specifically adapted to the sulfuric acid production in a disruptive way for the first time worldwide," says Mourchid. "The process involves incorporating a supplementary gas scrubbing process designed to remove SO2.
"The system recovers by contacting the gas rejected and converts it into sulfuric acid using a wet catalysis process. Clean gas and water vapor are released into the atmosphere. The gas is then converted into sulfuric acid, and recycled in the production chain, complying with the circular economy principle."
This milestone is several years of research in the making, involving close collaboration with a multinational expert in the treatment of waste gases.
"The resulting environmental performance far exceeds even the highest standards worldwide," adds Mourchid. "This process marks an historical milestone in terms of a reduction in SO2 emissions, achieving results of less than 15 ppm, which is very low compared to the threshold value of 157 ppm, the world's most restrictive standard."
A sustainable guardian
The Sulfacid innovation very much fits in line with OCP's ambition to be a champion of the circular economy.
It is currently developing a programme for unconventional water consumption resulting from desalination and wastewater treatment, a development which could help the fertiliser industry become more sustainable.
The Group is also looking to clean energy, its operations at present powered by 75 percent renewables with the aim of reaching 100 percent at all mining and chemical sites.
Further, as part of its social responsibility goals, OCP has launched its Act4community programme, designed to boost citizenship initiatives and help embed employees more in their surrounding communities.
As a responsible and global leader, OCP has two ambitions. To meet the world's agricultural needs in a decisive way and to protect the environment.
"Aware of the central role of the phosphate industry towards sustainable development, the Group chose to integrate environmental issues at every level of its activities," says Mourchid. "The implementation of the Sulfacid process is in line with OCP Group's ambition to be a leader in environmental protection and circular economy."