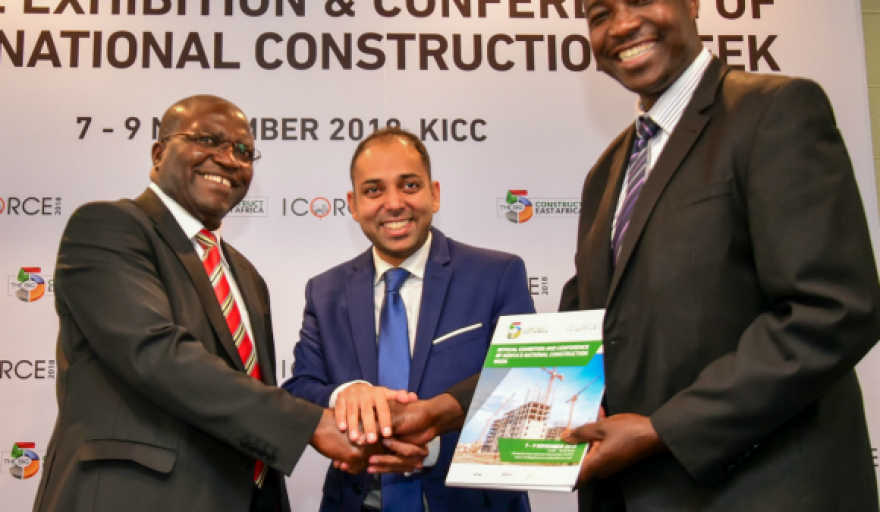 Kenya's second National Construction Week, at Kenyatta International Convention Centre from 7-9 November, 2018, is set to enhance contribution of the construction industry towards the Big Four Agenda.
Speaking at a press conference at the Intercontinental Hotel in Nairobi, representatives of the National Construction Authority (NCA), the State Department of Housing and Urban Development, and dmg events presented the National Construction Week to media and highlighted how it will support the government's ambition to enrich the local economy.
The week will incorporate the International Construction Research Conference and Exhibition (ICoRCE) official conference organised by NCA, and The Big 5 Construct East Africa 2018, official exhibition of the week organised by dmg events.
Charles Hinga Mwaura, Principal Secretary at the State Department of Housing and Urban Development branch of Kenya's Ministry of Transport, Infrastructure, Housing and Urban Development, provided insight towards government targets: "The government's focus right now is uplifting the economic status of all Kenyans, and we are doing so by first providing affordable housing for all. In order to do so, we must incorporate technology and provide innovative solutions in order to save on cost but maximize on quality of buildings.
He added: "This is the reason why events such as the National Construction Week are critical, as we must create platforms to continuously engage and seek creative solutions to our affordable housing gaps."
The Big 5 Construct East Africa 2018 will bring over 200 exhibitors from more than 20 countries including Qatar, Germany, Turkey, France, Italy, China and Greece to support the affordable housing agenda in Kenya – one of the key objectives set out by the country's government.
For more information, visit: www.thebig5constructeastafrica.com