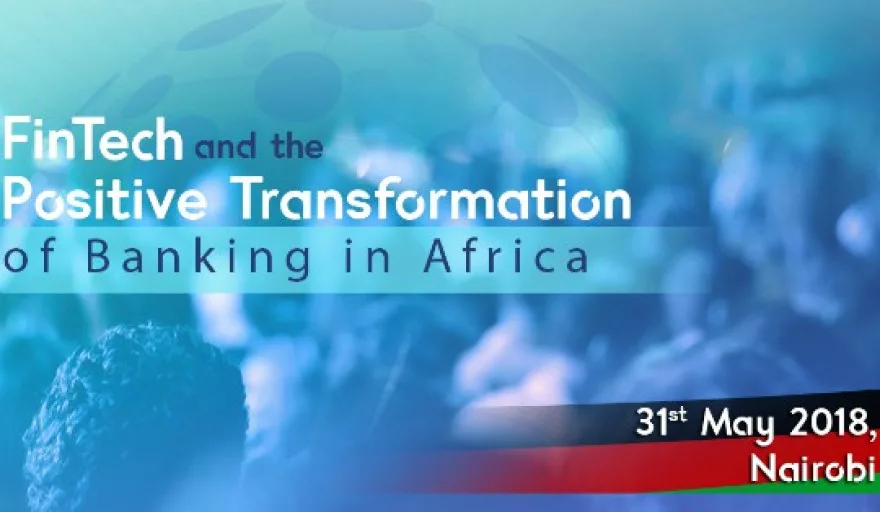 Finnovation Africa: Kenya 2018, which will be held on 31 May, 2018 at the Radisson Blu Nairobi, will gather international FinTech experts together with African pioneers, investors, government policymakers, entrepreneurs and leading bankers to harness the FinTech revolution to boost strategic economic priorities such as financial inclusion; and how FinTech can make a positive and profitable difference in Africa. The event will also explore how the major banks and financial institutions on the continent are addressing the digital transformation of financial services and how their own digital innovations are being shaped and accelerated as a result of the gathering momentum of FinTech disruptors.

The unique environment for financial services in Africa is fertile ground for innovative FinTech players who are capitalising on the opportunities to disrupt or leapfrog established business models to make financial services more affordable, accessible and profitable across the continent. Finnovation Kenya 2018 is delighted to welcome a stellar list of keynote speakers, including Paul Muthaura, CEO of Capital Markets Authority Kenya; Dave Van Niekerk, Founder and Executive Chairman of MyBucks; Aaron Fu, Managing Partner, MEST; Jeremy Awori, Managing Director of Barclays Bank Kenya Ltd; and Declan Magero, Founding Partner, Afrinet Capital.
The opening keynote session will define directions on Aligning the Role of Government Policymakers, Banks, FinTech Innovators, Investors, Multilateral Agencies, MNOs and the Private Sector to Advance the FinTech Ecosystem in Africa.
Paul Muthaura, CEO of Capital Markets Authority Kenya Ltd, speaking ahead of his participation in the event, said: "Kenya has rapidly become an internationally recognised pace-setter for FinTech innovation as global players increasingly look to learn lessons especially in areas where the country has built world-class capabilities such as in mobile money.
"We have built a supporting infrastructure and are strengthening our regulatory framework to foster FinTech innovation and drive capital market activity to the next level. The Authority is at an advanced stage of implementing a Regulatory Sandbox to provide a safe space for innovative ideas to transition into the regulated environment. Across emerging markets, and particularly in Africa where there is an absence of the legacy infrastructure found in most developed economies, Fintech presents a transformational opportunity to leapfrog traditional costs and time delays in rolling out world-class financial services infrastructure, products, services and distributions channels.
"The pioneers and experts gathering at Finnovation Kenya 2018 will provide critical insights on this exciting journey."
Finnovation Kenya 2018 will also provide a platform to connect innovative startups with leading investors in the African FinTech space and the Wolves' Den session is one of the most dynamic features of the event. The Wolves' Den enables innovative FinTech startups and trailblazers to real-time test the positive impact of their solutions. A panel representing savvy investors/venture capitalists and seasoned African Fintech pioneers will evaluate the business model of each chosen startup or trailblazer in a high-stress 10 minute "elevator pitch" to the "Wolves" who will ask the tough questions and provide the illuminating insights.
Speaking ahead of his participation in Finnovation Kenya 2018, Dave Van Niekerk, CEO of MyBucks, said: "The global microfinance, retail banking and credit landscape has long required a revolution and this rapid and dramatic change, with financial inclusion at its heart, is already well underway.
"FinTech innovations are enabling the distribution of financial products at competitive pricing, providing the basis to rapidly scale-up as well as effectively manage credit risk. Incumbent financial institutions will eventually be forced to embrace this technology to acquire clients, determine risk and retain clients, effectively closing the divide between FinTech and traditional finance organisations.
"The Finnovation Kenya 2018 event will create a powerful platform for startups and trailblazers, to understand the broader ecosystem as well as for incumbent financial powerhouses from across Africa to engage and learn from each other."
Further emphasising the importance of the development of the FinTech ecosystem to economies across Africa, Sunny Walia, General Manager for Visa East Africa, said: "With just 17 percent of people in Africa having access to formal financial services, almost a third of funding raised by African startups in 2017 was in the Fintech sector. Venture funding for African startups jumped by 51 percent to $195 million in 2017. And so, with more than $100 million invested over the past 10 years alone, the region's FinTech industry is on the brink of a transformative breakthrough. At Visa, we believe the time is ripe to bring together its brightest minds and work on the next big idea in payments technology. With a clear goal of enabling cashless economies and financial inclusion, Visa is committed to fostering an entrepreneurial spirit and driving innovation in its payments landscape."
Mr. Walia continued by saying: "To this end, we at Visa announced that its Visa's Everywhere Initiative, a global innovation programme that tasks startups to solve commerce challenges of tomorrow and further enhance their own product propositions and provide visionary solutions for Visa's vast network of partners, will expand into the sub-Saharan Africa (SSA) region. Entrants in the first-ever sub-Sahara Visa's Everywhere Initiative (VEI) will have the opportunity to compete for a chance to win up to US$50,000, access to Visa's products and services, expert mentorship and support from Visa and exposure to key Visa partners and clients.
"To date, the programme has had nearly 2,100 participating startups across North America, Latin America, Europe, Asia-Pacific, Africa and the Middle East. Today, I am keen to participate in Finnovation Kenya 2018 to help shape the dialogue around the next steps on how banks and FinTech players can collaborate with Visa to transform economies across the continent."
From the perspective of a leading banker, Jeremy Awori, Managing Director of Barclays Bank of Kenya Ltd, reinforced: "The rapid growth of FinTech on the continent is driving both the disruption and leapfrogging of legacy systems and is further accelerating the digital transformation of financial services across Africa.
"As a bank, our innovation and digitisation agenda is in top gear and is aimed at moving the bulk of transactions to channels such as mobile banking, internet banking and agency banking in order to increase customer convenience. We have recently launched our pioneer virtual banking proposition, Timiza, which offers our customers a platform to conduct their financial transactions ranging from borrowing, saving, bill payments and funds transfer etc, from the comfort of their mobile phones.
"I look forward to participating in Finnovation Kenya 2018 and engaging with FinTech pioneers from across the continent to address how FinTech is contributing to the positive transformation of financial services in Africa."
Finnovation Africa: Kenya 2018 will take place at the Radisson Blu in Nairobi, Kenya on 31 May, 2018 and will gather all stakeholders and influencers in the African FinTech ecosystem, from innovative startups to banking powerhouses, representing the key markets across Africa and internationally.