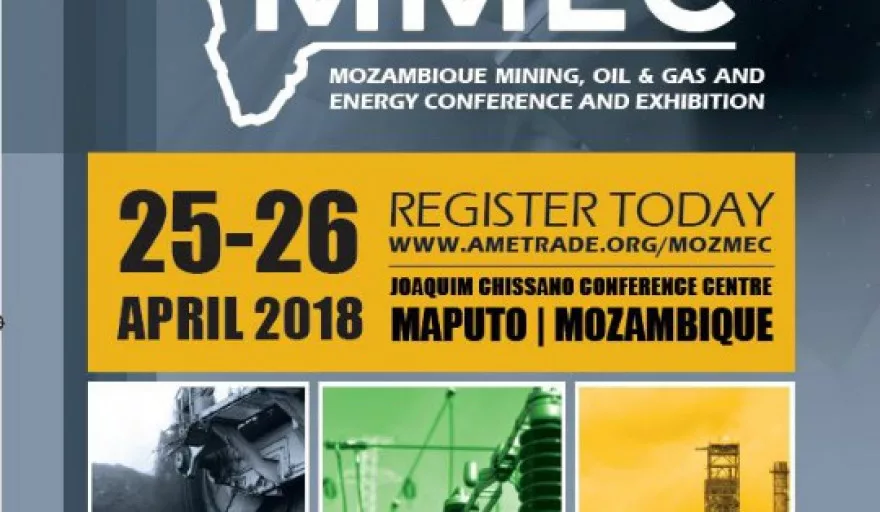 The Mozambican Government is working hard to create a business environment that is conducive for trade and investment. Having implemented the Mozambique Investment and Export Promotion Agency (APIEX), attempts at attracting more business into the country seem to be gaining momentum. Two bills were also passed last year changing the tax regime for mining and petroleum activities and is said to improve the amount of money that local communities get as well as reduce any damaging mining activity effects in the environment.
This picturesque African country's government also plans to set up a sovereign investment fund where capital gains taxes will be paid on the sales of shares in the country's mineral resources. These taxes will be used to finance local development projects, with the $350 million on the sale by Italian energy company ENI to ExxonMobil being the first possible money to go into the fund.
Developments in the mining, energy and oil & gas sectors will be discussed and showcased at the Mozambique Mining, Oil & Gas and Energy Conference and Exhibition (MMEC), taking place at the Joaquim Chissano Conference Centre in Maputo from 25-26 April, 2018. The main theme of the event will be "Developing Mozambique's Natural Resources for enhanced Industrialisation and value addition in the country"; a topic that is of utmost interest to Government Ministers, senior directors, development partners, investors, energy executives and other influential industry stakeholders set to attend.
Now in its 6th edition, this event has become a firm fixture in the global extractive industries business event calendar; successfully creating a platform for the conception of new partnerships and learnings from key investors. Building on the success of the 2016 edition which featured more than 400 delegates to the conference and more than 1,000 visitors to the exhibition.
Building on the success of the previous five editions, some of the following topics will be discussed and run in three simultaneous industry sessions at MMEC 2018:
· LNG Markets: Impact on current project and gas monetization strategies for the future
· Mozambique's Oil & Gas Exploration outlook: E&P Plans Post 5th Licensing round
· Roundtable: Adding Value: Local Content in Oil and Gas: An obstacle or a necessity for a sustainable Oil and Gas industry
· Gas Infrastructure Challenges/opportunities: Resettlement Plan
· Roundtable: Adding value to mineral resources vs local content: Where are we now and how we can best move forward?
· Mozambique Coal: A look into current and upcoming projects
· Updates on other emerging Mining projects
· Regional integration: How Mozambique can position itself to be a leading energy provider in the region
· Renewable Energies: Potential, Policies and Investment Opportunities
· Roundtable: Rural Electrification: What solutions exist and how they can be applied
These topics will be discussed through panel sessions and roundtables. Some of the speakers confirmed are:
· Omar Mitha, Chairman, ENH
· Mateus Magala, Chairman of the Board of Directors, EDM
· H.E. Mahaman Laouan Gaya, Executive Secretary, APPO
· Chivambo Mamadhussen, President, Department of Mineral Resources, Hydrocarbons and Energy, CTA
· Geert Klok, Managing Director, Grafite Kropfmuehl de Moçambique, Lda
· Jack Cunningham, Global Sustainability, Risk & Policy Director, Gemfields Plc
· Ben Van Roon, Chief Operating Officer, Battery Minerals Ltd
· James M Hughes, Country Manager, Fluor Mozambique
· Paul Eardley-Taylor, Head of Oil and Gas Southern Africa, Standard Bank
· Andreas F Ziegler-Mendonça, Managing Director, SwissSolar
· Steve Wilson, Vice President & Country Manager, Anadarko
· Tom Bowker, Editor, Zitamar News
· Duncan Bonnett, Director Africa House
· Senior Representative, ENH Logistics
· Victor Tivane, Local Content Director, ENH
· Roger Tissot, Senior Consultant, Rene Roger Tissot Consultant
· Waldemar de Sousa, Executive Director and Member of the Board, Banco de Moçambique
· Pietro Toigo, Country Manager, African Development Bank
· Jaime Comiche, Country Representative, UNIDO
· João Machatine Laimone Ndlovu, Director for Regional and Continental Integration – Ministry of Foreign Affairs and Cooperation Republic of Mozambique, SADC
· Senior Representative, WCS
· Gerald Mturi, Executive Secretary, Tanzania Chamber of Minerals and Energy (TCME)
· Paulo Rage, Director, CCIABM and Partner, Mayer Brown
· Prof. Mosad Elmissiry, Head of NEPAD Energy Programme, NEPAD
· Zubair Suliman, Senior Investment Manager, KFW DEG
· Wilhelm Karanitsch, Managing Director, Andritz Hydro, South Africa
· Leonardo Nhavoto, Lawyer and Senior Consultant, Sal & Caldeira
· Kaina Mamudo Mussagy, Jurist, Manager, Sal & Caldeira
· Peter Oldacre, CEO, Graysmaker
· Bruno Morgado, Chief Executive Officer, Matola Gas Company
· Sabino Ngundele, Head of Investment Banking, Société Générale
Register at www.ametrade.org/mozmec to be part of the upcoming mining, energy and oil & gas industry in Southern Africa.