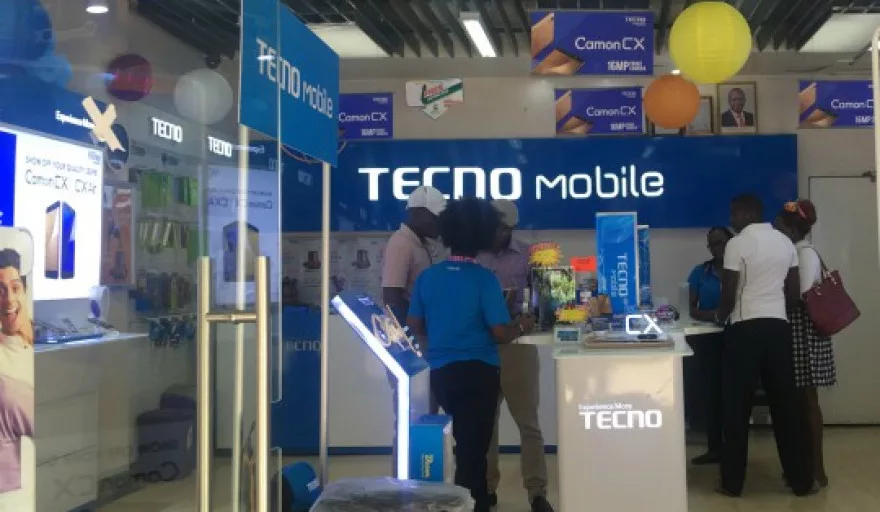 TRANSSION – originally TECNO TELECOM LIMITED – was founded by CEO, Mr George Zhu in 2006 having travelled more than 90 counties to explore business opportunities; in the firm belief that he could form a successful business through bespoke tech products for the African continent.
Taking off in earnest in 2008, TRANSSION has grown substantially over the past decade to become a market leader; increasing the number of people who have been able to own their first device thanks to its plethora of brands.
As one of the first companies to enter the African mobile market, TRANSSION later launched a dedicated smartphone plant in Ethiopia in 2011. The move was testament to both the firm's confidence in the market and a desire to demonstrate full commitment to the African market, with a dedicated African production facility.
"This has allowed us to increase our distribution capabilities and improve lead times, enabling us to deliver the best service possible for our customers in the region and in turn invest in the local community, creating jobs and improving the region's infrastructure," adds Group Vice President, Arif Chowdhury.
From these beginnings, TRANSSION has successfully entered a wide range of markets including India, Pakistan, Nepal and Bangladesh but will continue to place Africa at the forefront of its attentions, as Chowdhury emphasises in his exclusive interview with Africa Outlook
Arif Chowdhury (AC): We have a range of different brands with devices that are targeted at different consumer segments, to address their varied needs and preferences. TECNO, itel and Infinix are all high quality mobile handsets designed specifically with consumers in mind. Each have unique design components and are competitively priced, meaning TRANSSION is perfectly placed to meet the needs of a wide range of consumer segments.
itel Mobile provides innovation for the masses, with a focus on an assessable yet advanced user experience, aimed at a target consumer group between 21-42 years. On the other hand, TECNO is for a younger community in the 16-35 age group.
The Camon CX by TECNO has been designed specifically for young, independent African people. It is one of the latest handset in our range and we have designed it with the selfie in mind. We have listened to customer feedback in Kenya and across Africa, and the overwhelming response has been that our consumers want phones that take high quality pictures in a device that is accessible and easy to use. We believe the Camon CX will be the "selfie camera" for this market's generation.
Infinix, a young brand sold across Africa, Europe, Latin America, the Middle East and Asia, aimed at a target consumer group between 18-35 years; and our Spice Brand targeted at a consumer group aged 18-35 was launched in India in July.
Africa Outlook (AfO): What specific continuous improvement strategies are there in place to ensure you maintain your market leading position across the brand portfolio?
AC: Understanding local consumers is central to our growth strategy. We will continue to listen to consumers across the regions in which we operate and use micro-innovation to develop products which solve the daily problems faced by consumers.
In addition to TRANSSION's commitment to consumer-centric products, we also continue to focus on providing our customers with extensive after-sales support. TRANSSION's 'Together, We Can!' mantra is embodied by its 10,000-plus employees worldwide who each day work to drive the company forward, providing more innovative products to new and exciting markets. This is also reflected in the Company's willingness to partner with firms of all sizes. We will continue to work together with key partners to solve consumer problems and improve as many lives as possible worldwide.
AfO: What major capital investments have been made in the past couple of years and what major additions are planned for the coming 12 months or so?
AC: Currently, we are focused on the development of our industrial park in Ethiopia, but we are constantly reviewing the infrastructure requirements of our business and the need for any future facilities in the region will be based on the commercial needs of the TRANSSION group.
We will continue to advance our products, while ensuring we are able to offer them at a competitive price point. That is what our customers value. Examples of how we have advanced our products most recently include launching dual-SIM smartphones and applying an anti-sweat as well as anti-slip design to our products.
AfO: What other value-add services have the company added to its offering to maintain its position ahead of the industry curve? And how are these value-add services being improved year-on-year?
AC: TRANSSION prides itself on its extensive after-sales support network – the largest in Africa in the mobile phone industry – which means consumers can purchase with confidence, knowing that any issues that may arise will be fixed quickly.
Established in 2009, Carlcare is TRANSSION's dedicated after-sales service brand. It provides high quality customer services in mobiles, tablets, home appliances, lighting and is expanding to further categories. We are committed to providing a customised service for a global market and now have more than 1,000 service centres (including third party service centres) in Africa, the Middle East and Southeast Asia, South Asia.
We view this as one important component, combined with our wide-ranging service network, that will enable us to fulfil our ambition of becoming a favoured provider of mobile communication devices and services in emerging markets.
AfO: Corporate social responsibility is now a core aspect of many companies' missions, so how does this transcend into your HR strategy, and to what extent does TRANSSION take part in charitable and community initiatives outside of core business activities?
AC: TRANSSION has grown to more than 10,000 employees globally. Our employees are an invaluable component to driving the firm's efficiency and growth and we are committed to providing the best working environment we can.
TRANSSION's employees know they can have a long-term career with the Company. They can develop their expertise here, and we can benefit from the knowledge they acquire.
[On the CSR side], we have developed products and services that improve the day-to-day lives of users in low mobile penetration markets, boosting the development of mobile-related industries and creating numerous job and commercial opportunities in the process.
We have also launched a range of CSR projects in Africa to help improve the lives of locals. For example, TECNO has worked with pupils from a school in Lagos to offer N100,000 scholarships, and providing educational documents and stationery to some local primary schools.
Another great example of the opportunities we offer is the partnership between TECNO Mobile and Manchester City Football Club. We recently developed an experiential initiative called Blue Squad which we co-launched with the club, which saw youngsters from across Africa spend a week enjoying the very best coaching with the team.
For around a decade, TRANSSION has been committed to Africa, and we are always looking for new ways to cater for our loyal customer base on the continent.
AfO: On a more general note, what would you say is TRANSSION's main differentiator in Africa?
AC: Our priority is to ensure we provide our customers with the best possible value. That means we develop phones that are of high quality and are competitively priced with micro-innovations to meet the needs of consumers. That has been a key factor in the growth of TRANSSION to date and remains a central pillar to our business model.
AfO: Looking forward, what are TRANSSION's plans for the future and, if we were to speak again in three-five years' time, what would you hope and expect to be able to report back in terms of Company growth in Africa?
AC: TRANSSION brands are very well established, having been available in the market for more than 10 years. Our ambition is to become an influential and favoured provider of mobile devices and services in emerging markets.
We have already entered several markets in Africa in a relatively short period and our short-term goal is to ensure we continue to grow in each market, catering for the wide-ranging consumer requirements.
We believe that Africa has the potential for continuous growth and we are proud to provide mobile technology to the region, to help the continent's development. By better connecting people together, TRANSSION can improve lifestyles and contribute to building economies and societies across Africa.