Part of the world-renowned HeidelbergCement, Cimbenin continues to provide crucial cement supplies for the country's infrastructure and building projects.
INTRODUCTION
Nestled in the west of Africa between Nigeria, Niger, Burkina Faso and Togo, Benin celebrated 60 years of independence in 2020 having been under the control of French colonialists from the late 19th century.
It is an unconventional piece of territory – a long wedge shape that stretches north for 675 kilometres from a 75-kilometre coastline on the Atlantic Ocean.
And it is here where most economic activity takes place. The nation's capital, Porto-Novo, is located just inland in the south-eastern corner of the country, although it is not Benin's chief societal and financial hub. This can be found 40 kilometres southwest at Cotonou, which is recognised as the chief port and de facto administrative capital.
Cotonou has been growing in importance since a wave of privatisation policies were initiated in the 1990s in a bid to open up the Benin economy.
This has involved making the most out of the nation's resources, chief among them are tropical rainforest, fish, oil and several minerals including iron ore, chromium ore and limestone.
The latter is helping to power Benin's cement production industry.
Another key component of the economic reforms of the 1990s was to encourage private investment into key sectors, and Germany's world-renowned industrial giant HiedelbergCement answered the call, creating Cimbenin through the acquisition of SONACI's cement plant in Cotonou in 1991.
Today, the specialist grinding plant stands as one of the oldest in the country and serves as a major cement supplier to the Benin construction trade. Here, tremendous volumes of clinker are taken through the final stages of cement production, with processes carried out by the likes of cement dryers, ball mills, roller presses and other very specialised pieces of equipment.
Among the final products made by Cimbenin are its high quality 42.5 R graded Buffalo Cement, a cement which is especially popular among brick manufacturers. More standard masonry work such as mortar, jointing and tile laying, as well as standard structural applications, can be served by the 32.5 R variant.
All cement is produced according to international standards NF EN 197-1, a hallmark of long-lasting quality and resistance to adverse weather conditions. Further, Cimbenin has been ISO 14001 certified since June 2012 and OHSAS 18001 certified since April 2013.
And no matter what cement a customer orders, they are able to benefit from live tracking, adding an extra layer of transparency that offers crucial peace of mind.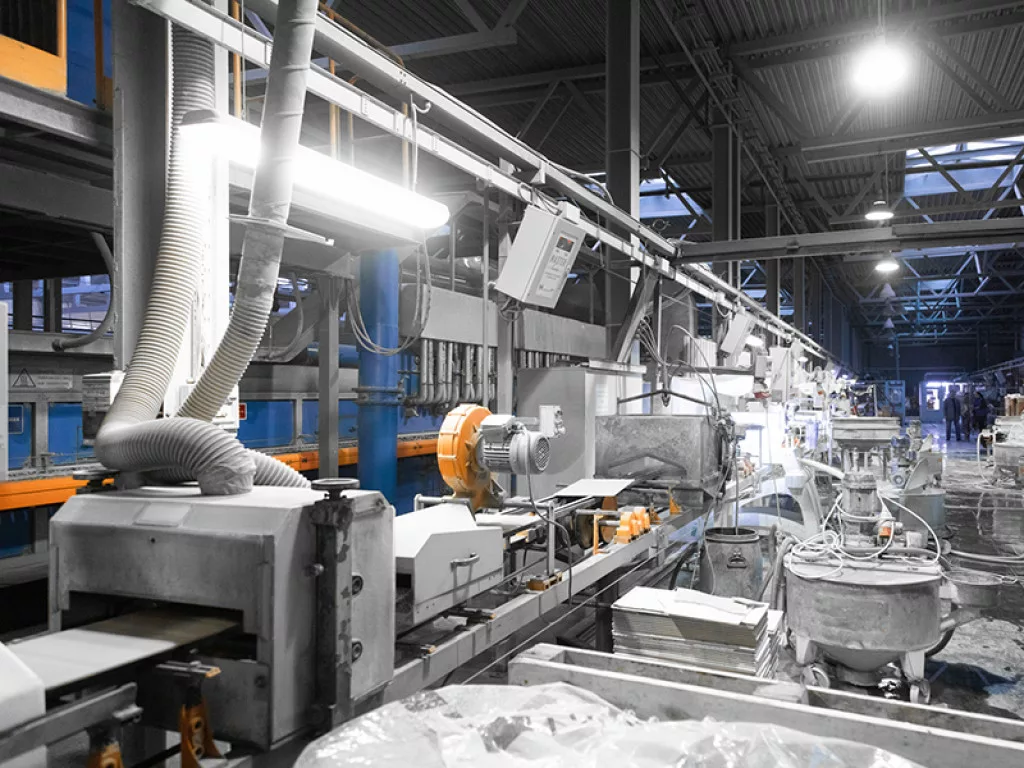 INVESTING IN SUB-SAHARAN AFRICA
HeidelbergCement is also determined to serve the community as well as its building trade clients.
The HeidelbergCement Benin Foundation, for example, invests in a number of local projects designed to uplift society. In August 2020, it joined forces with Human'Isa for the construction of school four classrooms. The work was carried out in partnership with the NGO Terre d'Espoir Benin, with Cimbenin provisioning cement supplies.
This is a typical example of the company's impact regionwide since it established itself on the African continent in the middle of the 1960s.
Activity initially occurred under the banner of Scancem International, which formally became part of HeidelbergCement in 1999.
It is now one of the leading cement companies in West Africa, operating a network of 18 facilities in 11 different countries, from Gambia and Ghana to Togo and the Democratic Republic of Congo. In all of its markets, the company stands as an important economic contributor, not only through its provision of building materials, but also employment and economic stimulus through the supply chain.
And although the region, like many parts of the world, has been adversely impacted by the health and socioeconomic impacts caused by COVID-19, the underlying market for cement was positive up until the outbreak of the pandemic.
In a summation of the region's potential, HeidelbergCement states: "Demand for building materials in Africa south of the Sahara continued to develop positively in 2019.
"Overall, the market environment is characterised by robust local economic development combined with increasing construction activity. Solid economic growth, a young and rapidly growing population, and steadily progressing immigration to cities and urban areas are the main drivers of increasing construction activity and demand for cement in these countries."
While a return to normality may not arrive in the immediate future, HeidelbergCement remains primed to serve the market when demand picks up.
"A key indicator is the per capita consumption of cement, which is still significantly lower in the Sub-Saharan countries than in more developed or industrialised countries," the firm states. "Our production locations are primarily located close to urban centres and therefore well positioned to serve the growing demand for building materials."